Last night, Ekta Choudhury, a 22-year-old beautiful girl from New Delhi, was crowned Pantaloons Femina Miss India Universe 2009. Now she will represent India at the Miss Universe Competition which will be held at the Atlantis Paradise Island, in Nassau, Bahamas on August 23, 2009. Pooja Chopra was crowned Miss India World and Shriya Kishore became Miss India Earth 2009. In this ceremony there were dazzling performances by Bollywood stars Priyanka Chopra, Kangana Ranaut and Genelia D'souza, choreographed by Shiamak Davar. The Miss India contestants used the designer fabrics created by designers Ritu Kumar, Rocky S., Pantaloons and Prasad Bidappa. This show was choreographed by Marc Robinson and hosted by Bollywood beauty Malaika Arora Khan and star R. Madhavan.
Among others, Sonakshi was crowned the Miss India Sexy Legs and Diksha was declared the Miss Fresh Face. Harshita won the Miss Agile award. Karishma Karnik bagged the Miss Confident crown for her sharp intelligence. agini won the Miss Beautiful Hair title. Niharika and Shreya Kishore won the Miss Beautiful Eyes and Miss Hospitality titles respectively. Dimple Patel was chosen as the Miss Photogenic. Ishita Sarkar won the Golden Heart title. The judges of the Pantaloons Femina Miss India 2009 included Madhoor Bhandarkar, Ajay Devgan, Sushmita Sen, Asin, Deepika Padukone, Nandita Mahtani, Ravi Krishnan, Mickey Bourdman, and Anil Chopra.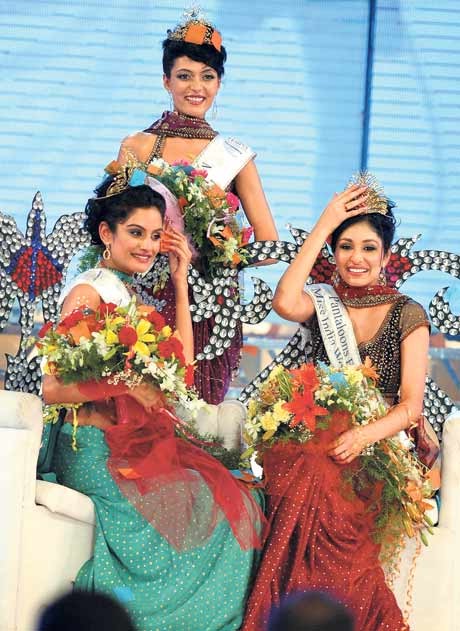 So the final results were ::
Miss India Universe 2009

Ekta Choudhury

Miss India World 2009 Pooja Chopra
Miss India Earth 2009

Shreya Kishore
Ekta Choudhury              Pooja Chopra                 Shreya Kishore
Miss India is an annual, national beauty pageant held in India and organized by Femina, a women's magazine published by Bennett, Coleman & Co. Ltd. The use of Miss India is in no way trademarked. Femina Miss India continues to be one of the highly recognized and well noted pageants to produce International Beauty Queens. The Femina Miss India pageant, which has brought international fame and recognition for the likes of Sushmita Sen, Aishwarya Rai, Lara Dutta, Priyanka Chopra and Dia Mirza amongst many others now gets ready to crown its next beauty queens.
Reita Faria was the first Indian to be crowned Miss World in 1966 and after that in 1994, with the twin triumphs of Sushmita Sen and Aishwarya Rai, who were crowned Miss Universe and Miss World, respectively, India beauties got the world-wide recommendation and attention. The victory of Sushmita and Aishwarya are responsible for taking the whole business of Indian beauty pageants to where it is today. Ever since, there have been an array of beauty Queens from India winning international titles: Diana Hayden, Miss World 1997, Yukta Mookhey, Miss World 1999, Lara Dutta, Miss Universe 2000, Priyanka Chopra, Miss World 2000, and Diya Mirza, who scored a hat-trick for India, by winning the Miss Asia-Pacific 2000 title. In 2006, Amruta Patki and Tanya Vakil have brought laurels to India by winning the Miss Earth – Air 2006 and the Miss Tourism International first runner up title.