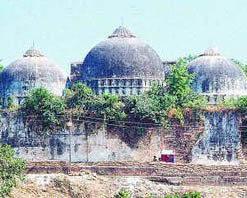 Allahabad High Court' three-judge special bench comprising Justice S U Khan, Sudhir Agarwal and D V Sharma have delivered the 8000 pages verdict of Ayodhya Case. The Allahabad High Court accepts the land under the central dome is Ram Janmasthan. The disputed land has be to divided into three parts and to be distributed among the Sunni Waqf Board, Nirmohi Akhara and the party for 'Ram Lalla'. Now let's see some important points in this verdict.
The disputed land or site is the birth place of Lord Rama.
The disputed building i.e Babri Masjid was constructed by Babar, the year is not certain but it was built against the tenets of Islam. Thus, it cannot have the character of a mosque.
The disputed structure was constructed on the site of old structure after demolition of the same. The Archaeological Survey of India has proved that the structure was a massive Hindu religious structure.
The idols were placed in the middle dome of the disputed structure in the intervening night of 22/23.12.1949.
It is established that the property in suit is the site of Janm Bhumi of Ram Chandra Ji and Hindus in general had the right to worship Charan, Sita Rasoi, other idols and other object of worship existed upon the property in suit.
It is also established that Hindus have been worshipping the place in dispute as Janm Sthan i.e. a birth place as deity and visiting it as a sacred place of pilgrimage as of right since time immemorial.
After the construction of the disputed structure it is proved the deities were installed inside the disputed structure on 22/23.12.1949.
It is also proved that the outer courtyard was in exclusive possession of Hindus and they were worshipping throughout and in the inner courtyard (in the disputed structure) they were also worshipping.
It is also established that the disputed structure cannot be treated as a mosque as it came into existence against the tenets of Islam.