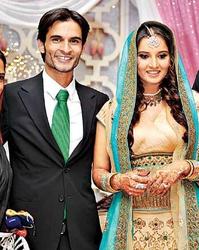 The long awaited and much discussed ceremony of the season, engagement of nation's heart-throb tennis star Sania Mirza with dashing Mohammad Sohrab Mirza was held with a blend of elegance and Hyderabadi warmth at a five-star hotel here on Friday night. Families of both the side were very much ceremonious at this occasion as their decades long friendship was now turning into a relationship; both the families hail from Hyderabad and had known each other from a very long time. Sohrab and Sania has been friends since their childhood. Sohrab Mirza is the son of Adil Mirza and Noora Begum, the owners of Universal Bakers chain in the city of Hyderabad. Sohrab Mirza is 1 year senior to Sania. Mr Mirza is a graduate from St Mary's College, UK. Mr Mirza has a B Com and will study for a MBA in UK.
Both the families insisted that the wedding ceremony not be scheduled soon , as Ms. Mirza is right now concentrating on her career and is not contemplating over quitting it in near future. Ms. Mirza's Father Mr. Imran Mirza, also clarified that this alliance was not fixed by the two maternal grandmothers, as was being rumored. This elaborate party ceremony was attended by around 300 guests. Traditional gifts were exchanged by the fiance and fiancee's familie.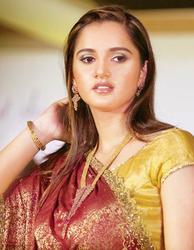 The ceremony itself, however, was an extremely private affair attended by close family friends and relatives. Mr. Imran Mirza had already made it clear that he did not want the ceremony to be publicised by the media. Sania herself has requested that there should not be a wide publicity for the event," he told media persons thronging their residence in Banjara Hills from the morning. A throng of journalists was at the venue who were waiting for a glimps of the beautiful couple and the VVIPs arriving to attend the 8 p.m. function. Luminaries gathered for the simple yet impressive function where Sania and Sohrab exchanged rings and shared a piece of cake, chocolate and bread included Mahesh Bhupathi, Rohan Bopanna, well-known television artiste Rakshananda Khan, Telugu film star Manchu Vishnu, Congress MLA Daggubati Venkateshwara Rao and former Test cricketer Arshad Ayub.