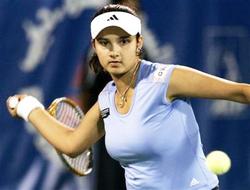 Sania Mirza is no more engaged with her childhood friend Mohammad Sohrab. The duo got together on last July at Hyderabad. The split is told to be a mutual decision and has nothing to do with the tennis career of the diva. Mr. Imran Mirza, who also coaches and manages career of Sania said, "She will continue playing. It has nothing to do with her career. She had been playing before, played through the engagement and will continue to play,". He said that despite of the split they are still in good terms with the family of Sohrab and the half decade long friendship of the families is not going to be affected by this. "It has been mutual. Everything has happened in a very nice manner because both the families are so close to each other," Imran said.
When asked to Sania, she said its a personal decision and without involving in the details she said straight forward, "We were friends for years but found ourselves incompatible as a couple. I wish Sohrab the very best in life," She also said that if she has to play tennis and has to be out from home 35 out of 52 weeks in a year then it gets difficult to cope with the marriage. Questions like whether Mohammed could bear with the demands of being life-partner to a widely-travelled, hugely-popular athlete, were doing the rounds, even before the two got engaged. Side effects of these ups and downs in relationship were very much deducible from her performance in court.
Could it be hazardous to her game? To the answer of this, Imran said, "Of course, it could. But she has to fight out of it. It would hurt Sohrab and he too has to come out of it." We wish that Sania gets over with it and starts putting her attention back to her first love, tennis and in time she might find comfort there. She will fly out to Kuala Lumpur late on Friday, where she is going to lead India's challenge in the Fed Cup Asia Oceania Group II competition, starting February 2.