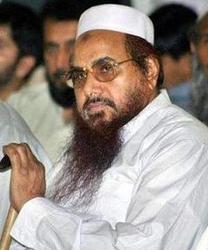 The US has announced a bounty of $ 10 million for the arrest of or any information leading to the capture of 26/11 mastermind and Pakistani terrorist Hafiz Saeed. Saeed's brother-in-law and co-founder of LeT Abdul Rehman Makki now also carries a bounty of $3 million on his head. Hafiz Saeed, one of the most wanted terrorists in the world today is the chief of the banned Jamaat-ud-Dawa and the founder of the Lashkar-e-Taiba (LeT), one of the largest and most active militant Islamic organizations in South Asia, operating mainly from Pakistan. India considers him one of its most wanted terrorists because of his ties with Lashkar-e-Taiba and his involvement in 26/11 Mumbai terrorist attacks, which resulted in the death of 166 innocent people. By putting Hafiz Saeed on top of its most-wanted terrorists' list, the US has stepped up pressure on Pakistan to take action against him and also strengthened the India's stand against Hafiz Saeed and LeT.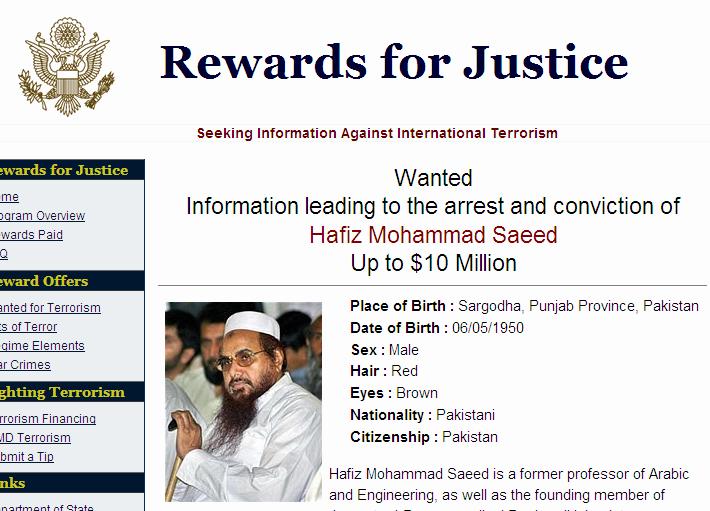 The rewardsforjustice.net website says
Hafiz Mohammad Saeed is a former professor of Arabic and Engineering, as well as the founding member of Jamaat-ud-Dawa, a radical Deobandi Islamist organization dedicated to installing Islamist rule over parts of India and Pakistan, and its military branch, Lashkar-e-Tayyiba. Saeed is suspected of masterminding numerous terrorist attacks, including the 2008 Mumbai attacks, which resulted in the deaths of 166 people, including six American citizens.

The Republic of India has issued an Interpol Red Corner Notice against Saeed for his role in the 2008 Mumbai terror attacks. Additionally, the United States Department of the Treasury has designated Saeed as a Specially Designated National under Executive Order 13224.

Lashkar-e-Tayyiba was designated as a Foreign Terrorist Organization in December 2001. In April 2008, the United States designated Jamaat-ud-Dawa as a Foreign Terrorist Organization; similarly, the United Nations declared Jamaat-ud-Dawa a terrorist organization in December 2008.