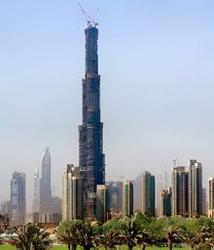 Do you know which is the tallest building or tower in the world? Today we will discuss about the tallest building in the world. Burj Dubai which is located in Dubai, United Arab Emirates, is the tallest man-made structure ever built. Its height is 818 m (2,684 ft). Its construction began on 21 September 2004, and the tower is expected to be completed in 2 months from now. It is being constructed by a South Korean company, Samsung Engineering & Construction, which also built the Petronas Twin Towers and the Taipei 101. The tower is designed by Skidmore, Owings and Merrill, which also designed the Willis Tower in Chicago, Illinois and 1 World Trade Center in New York City, among numerous other famous high-rises. This building is the part of "Downtown Burj Dubai" project.
The tower's main architect is Adrian Smith. The total budget for the Burj Dubai project is about US$4.1 billion. You will be surprised to know that Burj Dubai has returned the title of Earth's tallest free-standing structure to the Middle East, a title held by the region before 1311 when Lincoln Cathedral in England surpassed the height of the Great Pyramid of Giza, which had held the title for almost four millennia.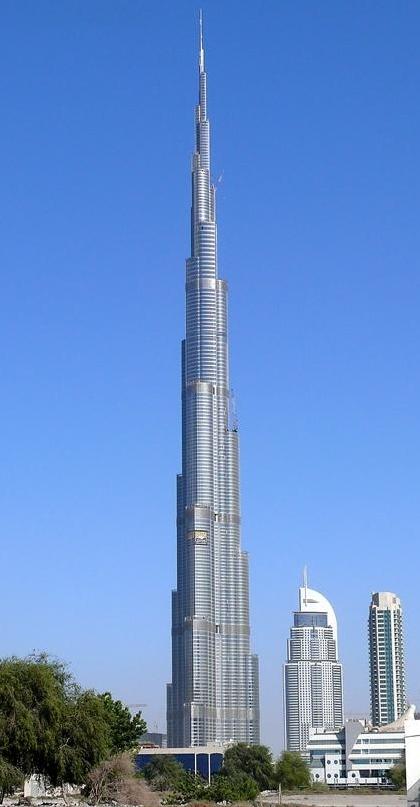 Burj Dubai will include 30,000 homes, nine hotels such as the Burj Dubai Lake Hotel & Serviced Apartments, 3 hectares (7.4 acres) of parkland, at least 19 residential towers, the Dubai Mall, and the 12-hectare (30-acre) man-made Burj Dubai Lake.
World records associated with Burj Dubai ::
Tallest man-made structure in the world : 818 m (2,684 ft)
Tallest freestanding structure: 818 m (2,684 ft) (previously CN Tower – 553.3 m (1,815 ft))
Building with most floors: 160 (previously both 1 & 2 World Trade Center – 110)
World's highest elevator installation.
Worlds fastest elevators at speed of 64 km/h (40 mph) or 18 m/s (59 ft/s) (previously Taipei 101 – 16.83 m/s)
The first world's tallest structure in history to include residential space.
See the history of tallest buildings or towers in this snap ::