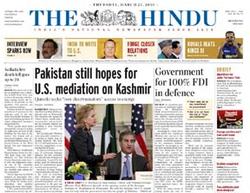 I consider The Hindu as the best national daily of India. It is the only newspaper where the pure character of journalism is still alive. If you are looking for no nonsense, accurate, intelligent, serious, unbiased and reliable reporting with in-depth yet to the point editorials and opinions, it is the right option. The only demerit which I see with this newspaper is that sometimes, it becomes pro-left but anyway despite being an avid right wing supporter, I am big fan of The Hindu. According to the Indian Readership Survey (IRS) 2011 The Hindu is the third most widely read English newspaper in India (after the Times of India and Hindustan Times) with a readership of approximately 2.0 million people.
The Times of India, on the other hand, is the world's largest selling English-language daily but the fans of The Hindu, including me, often criticize TOI for its extra attention on Bollywood, Cricket, fashion news and page 3 gossips. You can always find substandard and pure sensationalism with heavy dosage of film and page 3 party news in TOI. Even if you visit the website of Time of India, you will find it very much cluttered and full of advertisements and pop ups.
An ad war started between these two leading newspapers when Times of India first launched a new campaign for its Chennai edition. The campaign titled, 'Wake up to The Times of India'. The Times of India declared in its ad that The Hindu (without naming the paper) puts readers to sleep due to its boring news and content. In that ad you would see a Tamil man sleeping in different scenes in a satirical way so as to project that the readers of Chennai have been reading boring papers for a long time and now the time has come to switch to TOI's Chennai edition for their daily dose of colorful and exciting news.
The Hindu responded with YouTube videos which showed a series of youngsters being unable to answer basic general awareness questions but being totally up to speed on trivial information such as Hrithik Roshan's nickname and Kareena's size zero. Naturally, it was because they read The Times of India. And believe me, these ads damaged reputation of TOI almost all over India.
I must say, the Hindu's Ad is hundred times more innovative, punchy and creative than that of TOI. What I like most about the Hindu ads that they have not only nullified the impact of Times Of India campaign but have also managed to project readers of other newspapers as dumb. This might definitely inspire the people to reconsider their choice of the newspaper they read and should directly contribute to an increase in Hindu's market share.
Questions you should answer correctly, if you are The Hindu reader.
1. Who is author of Harry Potter series?
2. Paul Mac was part of which band?
3. What does ATM stand for?
4. What does UPA stand for?
5. Who will succeed Ratan Tata as the head of Tata Group?
6. what did Dhyanchand play?
7. Who is the vice-president of India?
8. Where is Tahrir Square?
9. In Ramayana, who is Ram's father?
Questions, you should correctly answer, if you are TOI reader
1. Which Bollywood heroine is associated with Size 0?
2. What is Ritik Roshan's pet name?
3. Is Aishwarya baby, a boy or a girl?
One of the regular readers of TOI commented on YouTube ::
I've been reading TOI for over 7 years, but having seen how vehemently readers of the Hindu tend to defend their newspaper, I subscribed to it for a week to see what the difference actually is. I realize that now. The Hindu tends to be far less 'sensationalist', publishes pretty much no celebrity gossip and trash, has an occasional full-page science and technology section, has much better writing in the editorial section, and a decidedly libertarian political stance. I'm switching over for good.
First see these TOI Chennai Edition's Print Ads ::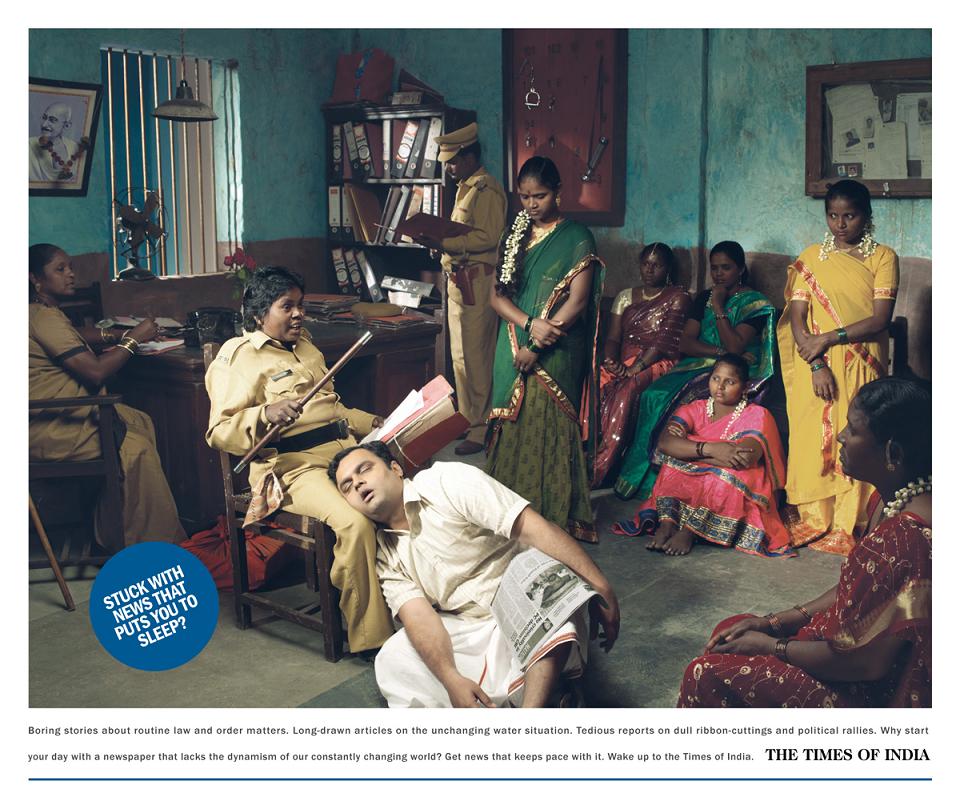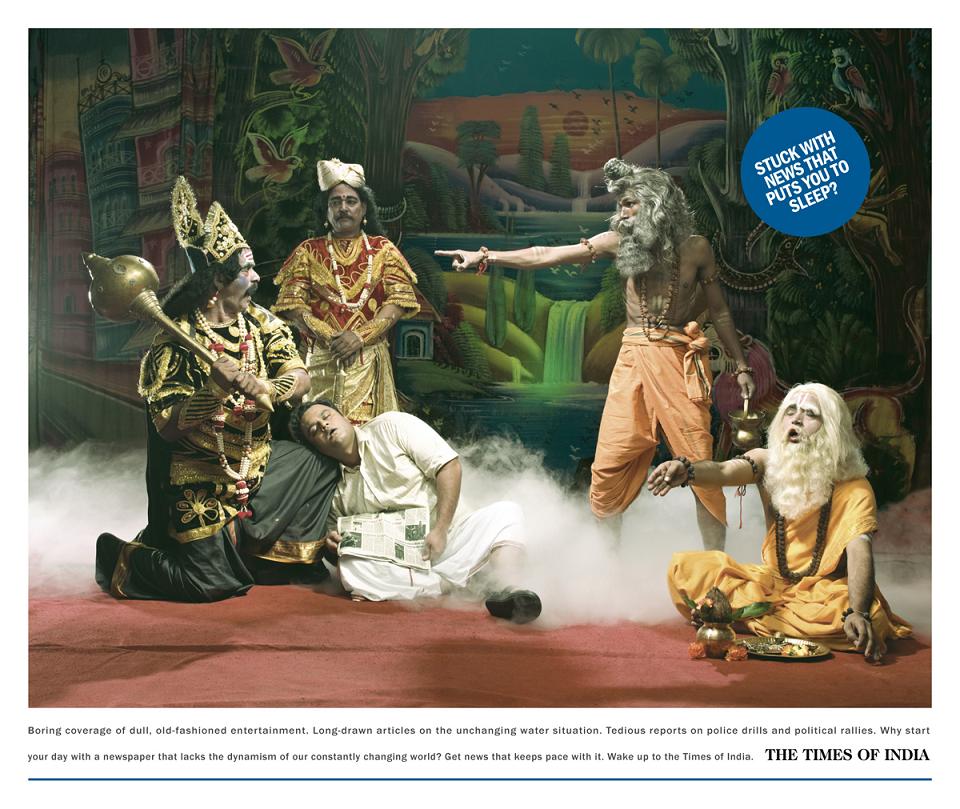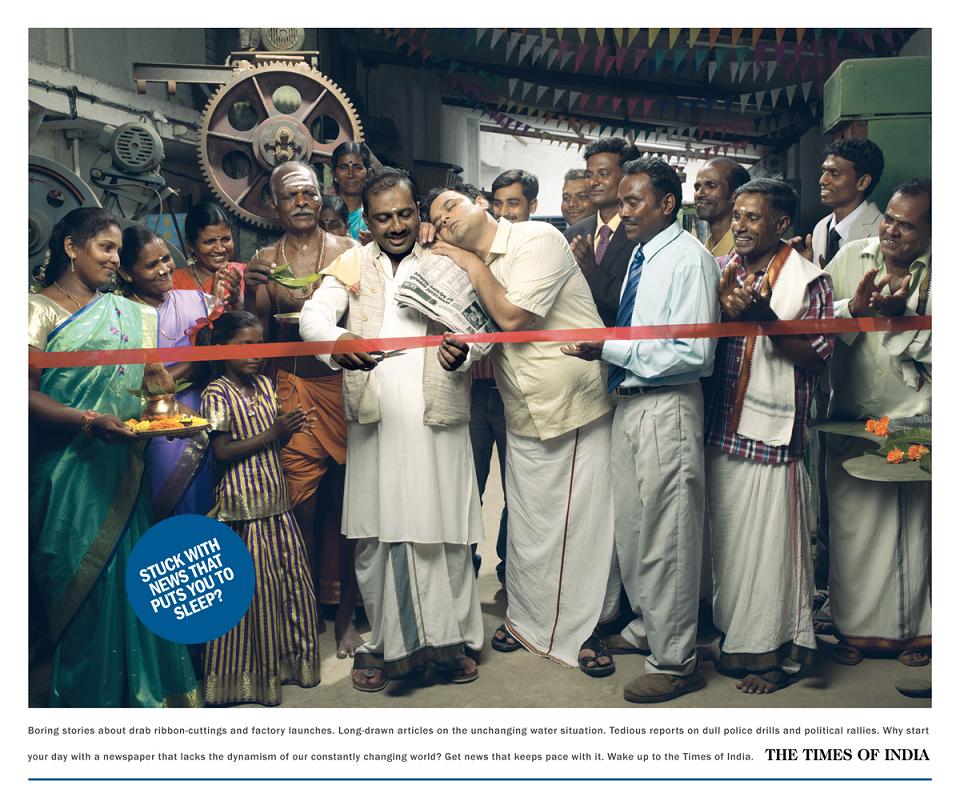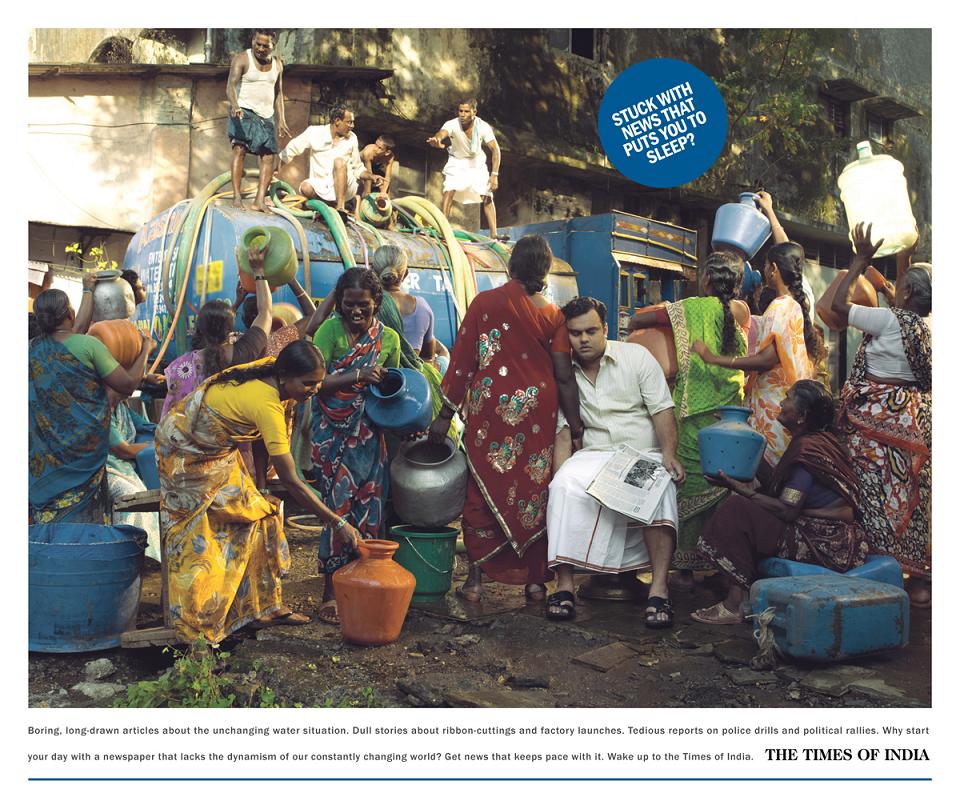 The Times of India TV Ad ::
The Hindu Video Ads ::
The Hindu Print Ads ::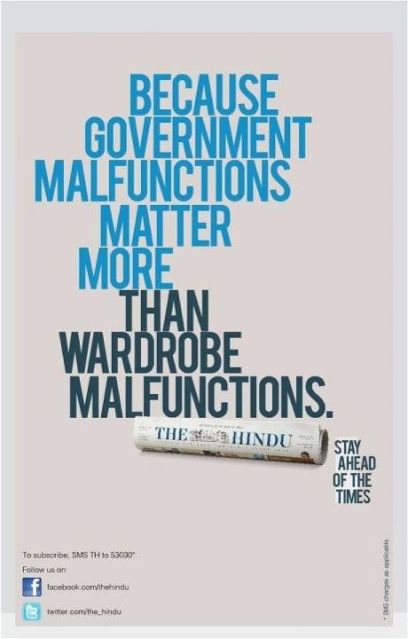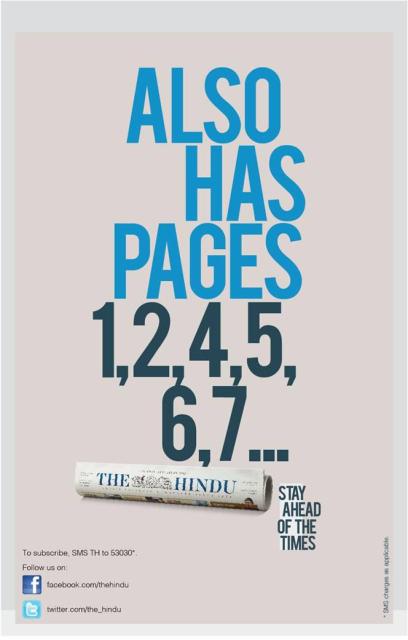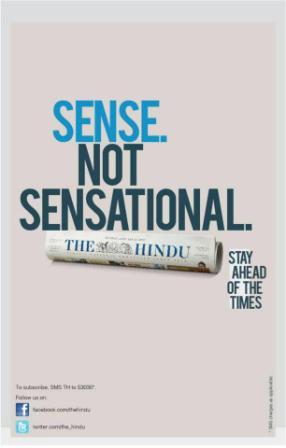 The Times of India Response ::