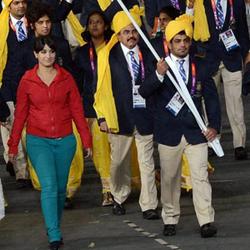 It's not a good start for Indian team in 2012 London Olympic Games as the team has got itself drawn into a controversy after a mysterious woman was found to be marching along with it during the Opening ceremony. The woman is seen walking confidently with Sushil Kumar the Flag Bearer at the Olympics Parade. Nobody knows about her. All men among the 81 strong Indian contingent wore traditional blazers and Rajasthani yellow turbans while the female atheletes wore yellow sarees. The mystery woman dressed unusually in red T-Shirt and blue trousers. Most of the Indian supporters are agitated to see a person who was not part of the delegation was allowed to accompany the team and hog the limelight in the process.
The Indians have fielded 81 athletes, the largest ever in the history of the Games, but only 40 athletes and around 11 officials participated in the parade at the opening ceremony, which showcased Great Britain's rich heritage combined with dazzling fireworks and stunning visual effects.
"She had no business to walk in with the Indian contingent and we are taking up the issue with the organisers. We don't know who she is and why she was allowed to walk in. It is a shame that she was with the athletes in the march past", Indian official Brig PK Muralidharan Raja.
Guys, if you know about this mystery woman, please post about her in the comment form at the bottom of the post.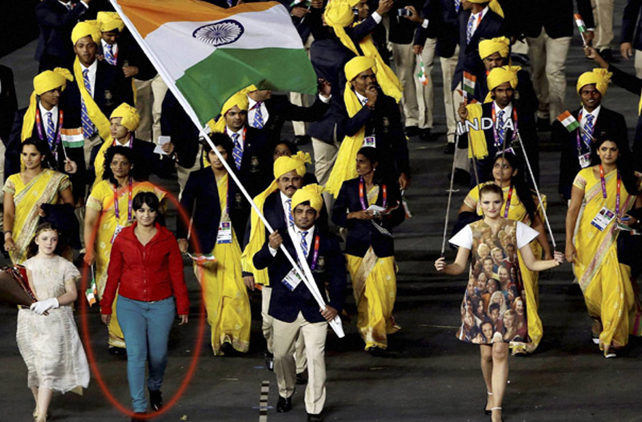 Mystery Woman Revealed ::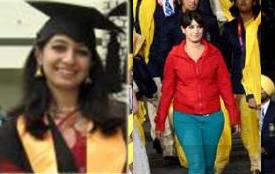 According to Deccan Chronicle, the mystery woman is Madhura Honey, a post-graduate from Bengaluru. According to the news paper, her friends from the college were also baffled seeing her with the Indian contingent. She lives in London. She displayed her Olympic passes on her Facebook account but as soon as this became a big controversy, she deactivated her Facebook account.