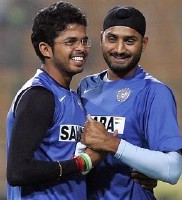 So friends, our dear Spin bowler Harbhajan Singh or Bhajji is in real trouble after giving a hard slap on the face of SreeSanth during an IPL match. The whole world has seen SreeSanth crying after the end of the match played between the Mumbai Indians and the Punjab King's XI. The live TV channels showed Sreesanth crying after the match. He was consoled by his teammates and film star, Preity Zinta, who is also the co-owner of the Punjab team. After this slapping case, Harbhajan Singh was immediately suspended by IPL organizers from IPL. Such controversies are not new for Harbhajan. He has previously been involved in many disciplinary incidents. Even he was center of a racism storm when India took on Australia in a Test series earlier this year. Harbhajan visited SreeSanth's dressing room after the game to apologize to him. But this has not resolved the matter. Now everything is in the hands of BCCI disciplinary committee.
According to some sources, Harbhajan warned SreeSanth not to needle his team mates during the match but SreeSanth allegedly persisted in doing so. When the match ended, SreeSanth said "hard luck" to him. As a result, Bhajii lost his temper and slapped him.
The incident is a big embarrassment for the IPL organizers who were describing this cricket tournament as a big boost for "spirit of cricket". It has also attracted the media attention in India and a debate is going on in whole country about whether Harbhajan will be banned for life for this act. Even Sreesanth has also been ccriticizedfor his uncontrollable sobbing at the end of the match. The incident is totally unacceptable and Indian Cricket Control Board should take this matter seriously as it can be very dangerous for the unity of Team India.
Watch out this video to see SreeSanth crying.