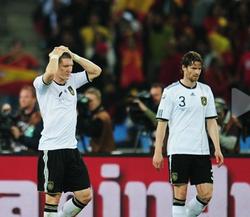 Paul the Octopus is a common octopus which is in news due to its correct predictions on the results of major German international football matches. His 100% accurate predictions for the Fifa World Cup Football 2010 have gained him worldwide status as a celebrity animal. Before German international football matches, Paul is presented with two identical containers, each containing food. Both containers are marked with a flag; one with the flag of Germany, and the other with the flag of Germany's opponent. In each instance, Paul's choice of food box is interpreted as his prediction as to which will be the victorious team.
Paul is reported to have correctly chosen the winning team in five of Germany's six UEFA Euro 2008 matches and in each of Germany's six matches in the 2010 FIFA World Cup. Paul also made a correct "prediction" for the semi finals when he chose the box with Spain's flag. Some German supporters hoped that Paul would get it wrong, because of his incorrect choice for the Germany versus Spain match in the UEFA Euro 2008, but this time they were disappointed. After the defeat of Germany in Fifa World Cup Semi-final, majority of German fans saying that Paul should be fried, barbecued or turned into a seafood salad or paella.
Many people are saying that Paul has spiritual powers and oracle abilities. Logically, this whole spirituality thing is actually a psychological pressure which builds up on the team before the match. His predictions can be described on the basis of probability theory. I don't know why media is giving so much attention to this Octopus.
| Opponent | Tournament | Stage | Paul's "prediction" | Result | Prediction |
| --- | --- | --- | --- | --- | --- |
| Poland | Euro 2008 | group stage | Germany | 2-0 | Correct |
| Croatia | Euro 2008 | group stage | Croatia | 1-2 | Correct |
| Austria | Euro 2008 | group stage | Germany | 1-0 | Correct |
| Portugal | Euro 2008 | quarter-finals | Germany | 3-2 | Correct |
| Turkey | Euro 2008 | semi-finals | Germany | 3-2 | Correct |
| Spain | Euro 2008 | final | Germany | 1-0 | Incorrect |
| Australia | World Cup 2010 | group stage | Germany | 4-0 | Correct |
| Serbia | World Cup 2010 | group stage | Serbia | 0-1 | Correct |
| Ghana | World Cup 2010 | group stage | Germany | 1-0 | Correct |
| England | World Cup 2010 | round of 16 | Germany | 4-1 | Correct |
| Argentina | World Cup 2010 | quarter-finals | Germany | 4-0 | Correct |
| Spain | World Cup 2010 | semi-finals | Spain | 0-1 | Correct |