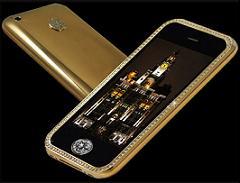 As we are witnessing a new technology products every week, there are also more luxurious products coming day by day with new and highly advanced features in existing products. We saw trend in laptops coming up with added features, now there are mobile companies which are also targeting the A class segment. British company Stuart Hughes has unveiled the world's most expensive mobile phone, a gold iPhone encrusted with nearly 200 diamonds. This dazzling mobile with gold and diamonds, the phone's meant only for those who are sitting on large sum of cash.
The iPhone 3GS Supreme priced at $3,164,000 (Rs. 14.7 crore) is the world's most expensive mobile phone designed and crafted by Stuart Hughes. This extraordinary handset is commissioned by an anonymous Australian businessman from the gold mining industry. Designing at Stuart Hughes, took it 10 months in the making. The 3GS Supreme phone is designed by Stuart Hughes for the Liverpool-based Goldstriker International Ltd. is made from 271 grams (9.7 ounces), 22-carat gold.
It has 136 diamonds in the front bezel and an Apple logo made out of around 53 diamonds totaling 1 carat. The phone's front navigation button only comprises a rare diamond of 7.1 carats. The phone ships with a 7 kg chest crafted from a single block of granite, offset with Kashmir gold and lined with Nubuck leather on the inside. This phone can be bought from the following place.