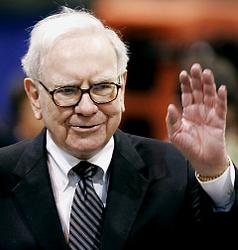 We all like to hear inspiring and rag to riches stories. In this period of economic recession such stories inspire us to continue to fight through hard times. Today we will discuss 10 points that you should know about Warren Buffett, the largest shareholder, second richest person in the world and the present C.E.O. of Berkshire Hathaway. This man is also known as the "Oracle of Omaha" and is famous for the value investing philosophy and for his personal frugality despite his immense wealth. Share market experts always say that if you can grasp advices from Warren Buffett, you will definitely do well as an investor. I am not saying there are no other great investment strategies, but Buffett's approach is not only easy to follow and but also demonstrably successful over more than five decades.
1 – His current properties and shares net worth is approximately $37 billion.
2 – 3 years back, in 2006, he donated a large portion of his wealth to Charity organizations, with 83% of it went to the Bill & Melinda Gates Foundation. He gave approximately 10 million Berkshire Hathaway Class B shares to the Bill & Melinda Gates Foundation (worth approximately USD 30.7 billion). It was the largest charitable donation in history.
3 – In 2008, Buffett became the richest man in the world dethroning Bill Gates, worth $62 billion according to Forbes Magazine.
4 – He married Susan Thompson in 1952. From this marriage they have three children. However, the couple began living separately in 1977, although they remained married until her death in July 2004. In 2006, on his seventy-sixth birthday, he married to his longtime-companion, Astrid Menks, who was then sixty years old. She had lived with him since his wife's departure in 1977 to San Francisco.
5 – He still lives in the five-bedroom stucco house in the central Dundee neighborhood of Omaha that he bought in 1958 for $31,500. The current value of this house is around $700,000.
6 – He is an avid player of the card game bridge. He learned this game from Sharon Osberg. He still plays bridge with Sharon and Bill Gates. He spends twelve hours a week playing the game. In 2006, he sponsored a bridge match for the Buffett Cup.
7 – Buffett is an agnostic as far as religious beliefs are concerned. In December 2006 it was reported that Buffett does not carry even a cell phone, does not have a computer at his desk, and drives his own automobile, a Cadillac DTS.
8 – This point will surprise you. His children will not inherit a significant proportion of his wealth. These actions are consistent with statements he has made in the past indicating his opposition to the transfer of great fortunes from one generation to the next. Buffett once commented, "I want to give my kids just enough so that they would feel that they could do anything, but not so much that they would feel like doing nothing".
9 – He also pledged $50-million to the Nuclear Threat Initiative, in Washington, where he has served as an adviser since 2002.
10 – Buffett's speeches are well known for mixing business discussions with humor. Each year, Buffett presides over Berkshire Hathaway's annual shareholder meeting in the Qwest Center in Omaha, Nebraska. This event draws over 20,000 visitors from both United States and abroad. The nickname of the event is "Woodstock of Capitalism".