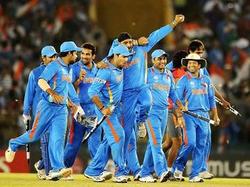 English people brought Cricket in India in the 18th-century and it got opportunity to play its first Test match in 1932 at Lord's. India was the sixth team to be granted Test cricket status. In their first fifty years of international cricket, India proved weaker than Australia and England, winning only 35 of the 196 test matches. The team, however, gained strength near the end of the 1970s with the emergence of players such as Sunil Gavaskar, Kapil Dev and the Indian spin quartet Prasanna, Venkat, Chandrasekhar and Bishen Singh Bedi. Traditionally much stronger at home than abroad, the Indian team has improved its overseas form since the start of the 21st century. It won the Cricket World Cup in 1983 under Kapil Dev, was runners-up in 2003 under Sourav Ganguly, and won the World Cup a second time in 2011 under MS Dhoni.
India have also been the Runners-up in 2000 ICC KnockOut Trophy, and the Joint Champions along with Sri Lanka in 2002 ICC Champions Trophy led by Sourav Ganguly in both the instances. India also won the inaugural World Twenty20 under Mahendra Singh Dhoni in 2007. The current team contains many of the world's leading players, including Sachin Tendulkar and Virender Sehwag who hold numerous cricketing world records.
Today I am going to some share golden moments of Indian Cricket.
1. 1983 Prudential World Cup Victory.
2. 2011 ICC World Cup Victory.
3. 1985 Benson and Hedges World Championship Cup Victory.
4. 2007 ICC T20 World Cup Victory.
5. 100 hundreds by Sachin Tendulkar
6. India's Test series victory in England, 1971.
7. India's Test series victory in WestIndies, 1971.
8. Sachin's batting against Australia in Sharjah Cup, 1998.
9. Natwest Series final win against England 2002 :: An amazing turnaround by Yuvraj and Kaif saw India chase 325, one of the highest successful chases in an ODI. The match will also be remembered for Ganguly twirling his shirt at the end of the match!
10. Hero Cup final Victory against WestIndies.
11. Victory against Pakistan in 1996 World Cup Quarter-final.
12. Victory against Pakistan in 2011 World Cup Semi-final.
13. Sunil Gavaskar completing 10000 runs in Test Cricket.
14. Victory against Australia in Eden Garden Kolkata Test, 2001.