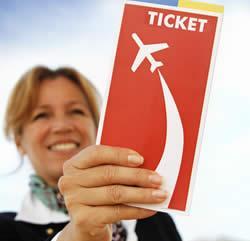 Now a days people prefer to travel by air. Air travel is fast and comfortable. It helps use to reduce travel time. Arrival of many private companies in aviation industry has made air travel more affordable in India. Kingfisher Airlines, IndiGo, Air India and Jet Airways are the most popular brands in domestic air travel market. They connect almost all the major cities of India and also operate in foreign countries. Today I am going to tell you an easy way to book the cheapest flight ticket in India. Finding cheap flights or airfares to fly is not a difficult task. Just you have to compare the prices offered by different travel sites. Let us take an example. Suppose you have to book a ticket for a round trip from Bangalore to Patna.
Travel Plan :: 5/11/09 Departure from Bangalore and on 15/11/09 Departure from Patna.
For booking this ticket, we are going to visit three sites.
MakeMyTrip.com
Yatra.com
GoIndiGo.in
TravelGuru
Let's first visit MakeMyTrip. You can click on the thumbnail to enlarge.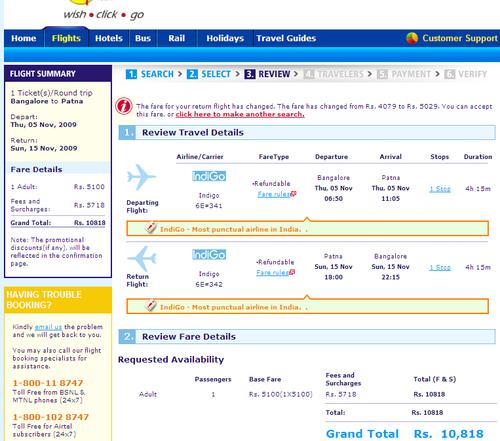 Now turn to Yatra.com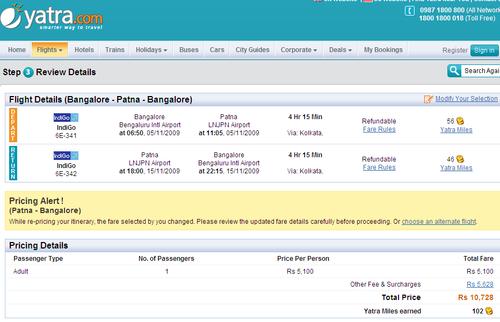 TravelGuru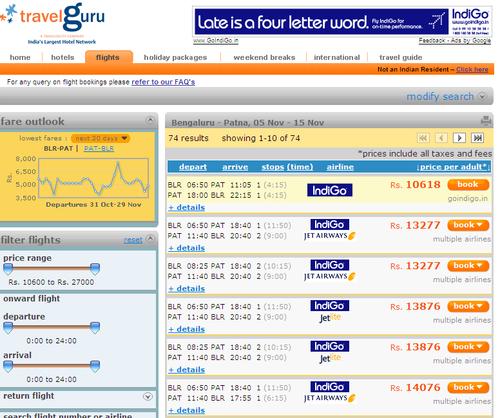 So the prices offered by makemytrip, Yatra and IndiGo.in are INR 10,818, 10,728 and 10,618 respectively. No need to say, we should book our ticket through IndiGo. TravelGuru's price is same as IndiGo as it directly redirects you to the IndiGo website.
What is the moral of the story?
First find the price of air tickets on third party sites like MakeMyTrip, Yatra etc and then book your ticket only through the official website of that airlines.
Official Web sites of major Indian air giants ::