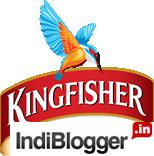 Today I got the chance to attend Kingfisher IndiBlogger Bangalore Bloggers meet. In the meet, I not only enjoyed chilled Kingfisher beer (3 mugs 🙂 ) but also got chance to meet many good bloggers, webmasters, social media experts. In the meeting blogging and tweeting ideas were flowing like anything. Around 150 bloggers from Banglore attended the meet. The meet held in Kyra Dining hall near 100ft road, Indiranagar. Initially all the bloggers were given chance to speak about their blog and profession. Some of the introductions were boring and most of the introductions were very inspiring and motivating. In the meet, I saw 3 bloggers who were more than 60 years old but seemed more confident, inspiring, passionate and focused towards blogging.
After the introductions were done we then moved on to regular blogging topics like monetization, blog popularity, reasons behind blogging, role of social media like twitter, how to get more visitors, problems of plaigiarism, copyright issues etc. Some bloggers also raised questions on the logic behind the calculation of indirank. I found the meet more useful for the beginners in blogging.
This was the agenda of the meeting.
| | | |
| --- | --- | --- |
| | Item | By |
| 1. | Welcome | IndiBlogger Team |
| 2. | 30 seconds of fame | Bloggers |
| 3. | Live & let comment | Bloggers |
| 4. | Live blogging / tweeting tips | Bloggers |
| 5. | Becoming a better blogger | Bloggers |
| 6. | Mingling session / Refill beer mugs | Bloggers |
| 7. | Travel Blogging | Bloggers |
| 8. | IndiBlogger Forum: Open discussion | Bloggers |
| 9. | Run up to IPL | Bloggers & a little help from youtube |
| 10. | Head home and keep blogging! | Bloggers, Auto Drivers, etc. |
Before 30 seconds of fame they showed the video "Hitler wants to go to the Bangalore Blogger meet"
Some snaps from the meet ::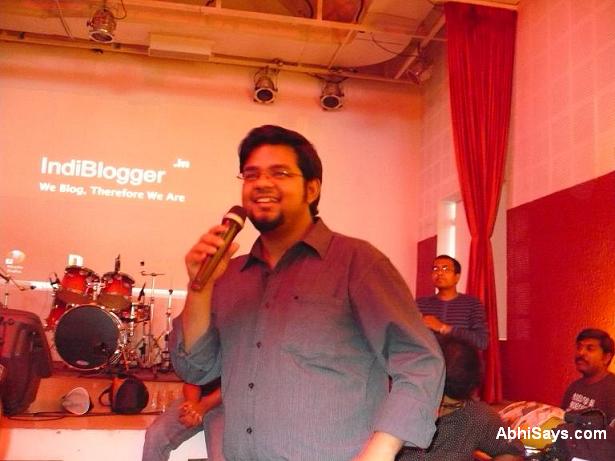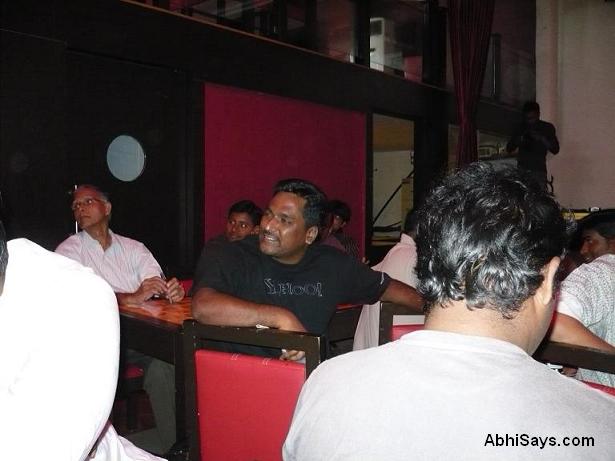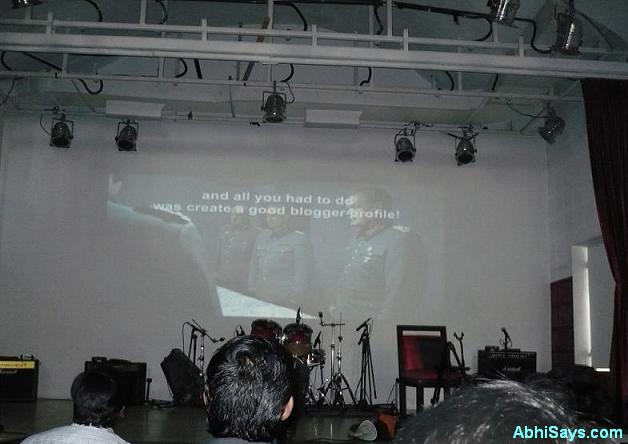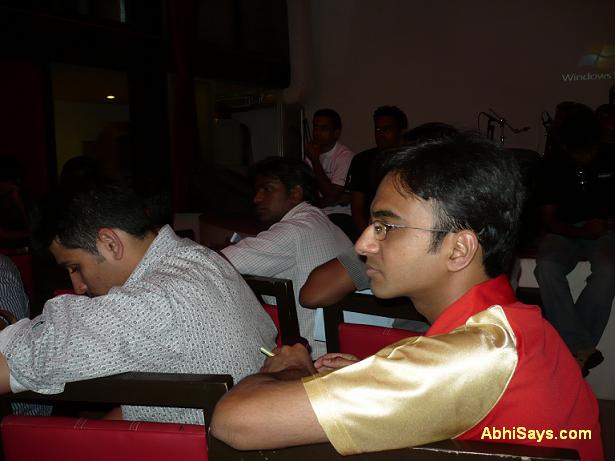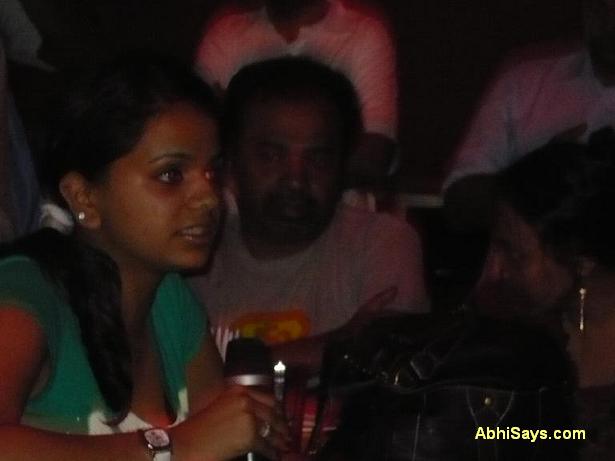 I was also there, this is the proof. Thanks Mohan for taking this snap.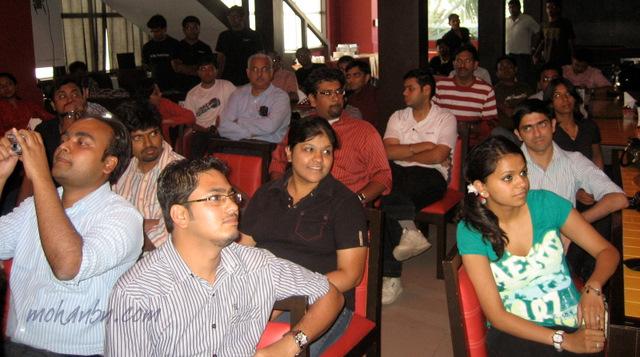 Mr. Saraswathan giving his introduction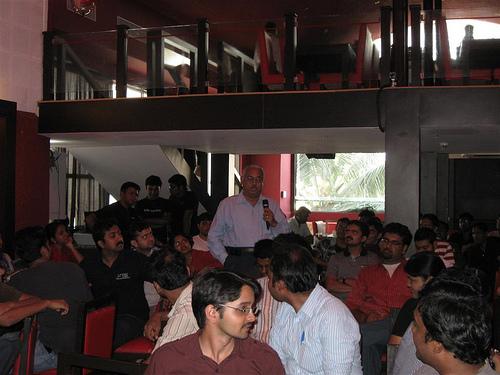 The official poster of the meet ::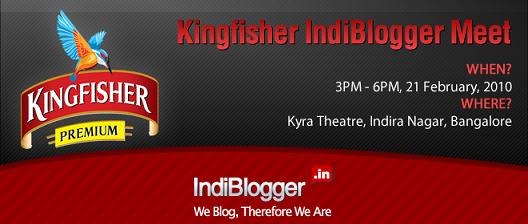 By the way I would like to thank Renie, Anwin, Karthik, Anup, Diana and the whole IndiBlogger team, Kyra for wonderful snacks and meeting hall and KingFisher for chilled beer.
This is the list of 150 bloggers who registered for the meet ::
Renie Ravin
Anwin Joselyn
Prashanth HN
Zeon
Deepak Rajanikanth
Deepak Panigrahy
Naveen JP
Raghava
hrish thota
Rahul
anish kumar
Sandeep R
Santosh
Vikas SN
Shweta Agarwal
Wickram
Rakesh
Shashi
Sandhya Iyer
Ram Mohandas Rao
Akhil Khatri
Santosh
Treassa Joseph
Rindo
Harsha Chittar
Lokesh Mudgal
Mohan Nellore
Nirav Thakker
vijay kumar
dilon
fossiloflife
Aashish Solanki
Gurupad
DivineHeadbutt
Ashwin Siddaramaiah
anwar donald
Tavish Chadha
Srinivas Ramakrishnan
Anoop Zombie
Cherian Tinu Abraham
Rajashekar
Vijay Rayapati
rahul menon
Mr.R
Vinodh Nandakumar
Aparna
Vineeta
Vikrant Aivalli
Diana Samson
Balaganesh
Hitesh Rawat
Ravindra Joisa
Avin Richards
R Saraswathan
Mohinish
Anshu Prateek
Shayan Anwer
Sathish
Rupesh
Ravi Kant
Sivasubramanian Muthusamy
Sriharsha
anurag
Harishankaran
Meghana Naidu
Arnab Chakraverty
Shayon
Tiger
Bhupendra Khanal
Ramakrishnan
Bhuvan Thaker
Muthukrishnan Rajaram
Natrajan
Prashant Mehta
Sivakumar (Anbusivam)
Vijay
Hashan Hazarika
Anand Kumar Sharma
Ashwin
SIVARAMAPRASAD KAPPAGANTU
Jagadish Shenoy
Pavan Palety
Avinash
Deepak JP
Aditya Kumar
nanda kishore
Bhargava
Sapna Gulgulia Sunil
Joel Fernandes
Sunil Sundaram
Nahid Saleem
manish chandra
Tathagat Varma
Nikhil Nulkar
Vikram
Vittaldas Prabhu
May
Varinder Parihar
Lancy D Souza
Kushal Raj Jain
Anand Bala
Abhishek Kumar
Ms.Sowmya Suresh
Simon
Dhiman
Piyush
Sourav Biswas
Arjun Kumar
Abhinav Sahai
Srikant
M.J.Lakshmi Narayanan
Prashant Dhanke
Olivia Mukherjee
Alfred
Arman Nair
Neeraj Bhushan
Sharath
Meenu Dhage
SaroSena
S.R.Ayyangar
Naveen Roy
Manju
Ganeshprasad Puranik
Rakesh Antala
Yogendra Oza
Jayaprakash Kulkarni
Mohit Jain
Manuj Bansal
Praveen
Abhishek
Srinivas Seshadri
Vinita
Kalyan Banerjee
Abhishek Saha
satyendra patel
Aditya
anil jaiswal
Chirag
Lokesh
Sowmya HS
Sneha
Ranjan
Rahul Prasad
Pranav Bhasin
Neeti
Vivek Rp
Raju
Harish
Muralidhar Bhat
Rishi Devanoor
Some of my observations from the Bloggers meet ::
In the meet there were very few professional bloggers, most of the bloggers were blogging on wordpress.com and blogger.com. Blogging was just a hobby for them.
Some of the bloggers criticized the algorithm behind the calculation of IndiRank.
Monetization through blogs was the hottest topic of discussion.
A few bloggers like Mohan (mohanbn.com) showed their concern towards blog plagiarism.
In the meet, there was an interesting game in which all the bloggers were given big sheets to be hung up in their neck and other bloggers would write comments behind the back of the bloggers. The game was a real fun for us. It gave bloggers a good opportunity to mix up with other bloggers.
In the meet, I met Raghava Sathish who is visually impaired but a very successful online marketing expert and a very enthusiastic blogger. He said that money was not a source of inspiration for him.
A gentleman called Mr. Saraswathan enlightened everyone with his witty comments and information. His example "your hand stops where my nose starts " was just awesome.
There was nothing much for pro bloggers in the discussion. Most of the bloggers were discussing only basics and fundamentals.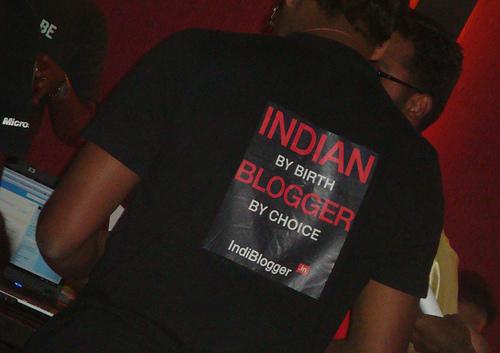 Thanks IndiBlogger for the Bloggers meet.