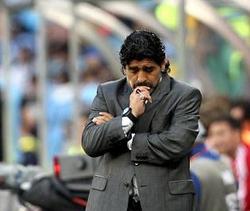 Yesterday, Argentina's national football team coach Diego Maradona told a local newspaper that his "it's done, my chapter has ended, I gave everything I had." However according to the spokesperson for the Argentine Football Association (AFA), Maradona had not officially resigned. AFA President Julio Grondona will meet with Maradona to discuss his resignation. So this is the climax of the story of Diego Maradona, one of the best Football players of world history. He is nothing less than a God in Argentina and for millions of Football fans worldwide whereas some people consider him crazy, drug-addicted and outspoken person.
He rose from a Buenos Aires slum to become the king of Football and helped Argentina to win the World Cup Football in 1986. He was suspended from football for 15 months in 1991 after failing a doping test for cocaine in Italy, and he was sent home from the 1994 World Cup in the USA for testing positive for ephedrine. He fell from status of God of Football after repeated drug-related scandals.
But he was a real sports-man. He came back again, this time his mission was to lead Argentina's national team to victory in the Fifa 2010 World Cup Football. At the World Cup, Argentina started by winning 1-0 against Nigeria, and then defeated South Korea by 4-1, with a hat-trick from Gonzalo Higuain. In the final match of the group stage Argentina won 2-0 against Greece to win their the group and advance to a second round meeting with Mexico. After defeating the team 3-1, Argentina received humiliating defeat in the quarter final match against Germany ( 4-0 ). Now Diego Maradona is planning to resign from his post. His chapter has ended.
I think that this is right time for him to come up with strong character and determination. Nothing over yet. World cups come and go. Let's build the Argentina team for next World Cup Football. Keep up the spirits and try to learn from the mistakes in the match against Germany. Next World Cup will be yours.