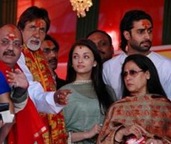 Two days back, Aishwarya Roy gave birth to a baby girl. This is first child for Aishwarya and her husband, Abhishek Bachchan. Fine, every hour thousands of babies born in India. What's so special about this baby girl? I don't know but for millions of Indians, it's a big news. The event has attracted the national attention. The whole Indian media is wasting its time, content and energy on this topic. I am unable to understand the media hype on this subject. As if no child was ever born in India before this.
From last couple of months, Indian media is talking about this great (?) event. See the list of articles which came in India today weekly magazine.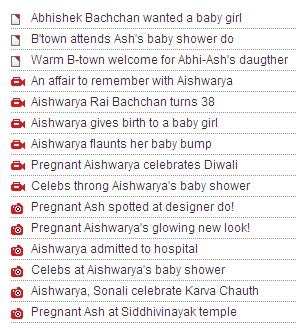 This is just one example. I don't want to waste my time showing you these crappy news from all the magazines and newspapers.
It seems that Indian media can go to any extent to get higher TRPs by hook or by crook. Not a singe news channel bothers about one's privacy. Just they collect and show spicy news for their audiences.
What I feel that there is something wrong with "We, the People of India". In other words, there is something wanting in not just those who deliver the message but also those who receive it.
I am sorry to say but majority of Indians are mentally very backward. Their intellectual level is very low. This is the reason why the whole country is celebrating the birth of Aishwarya's girl.
We are living in a society where there is lack of rational and scientific ideas and majority of people blindly follow junk, outdated and backward things.
What's your point on this issue?