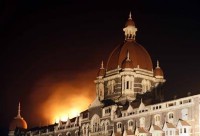 Poor Indians have survived one more terrorist attack. This time target was Mumbai, the most populated financial captial of India. There were a series of ten coordinated attacks on 26 November 2008 and ended on 29 November 2008 when Indian security forces finally regained control of all attack sites. In three days, around 200 people, including 22 foreigners have been killed and more than 400 have been injured. What I feel the possible reason of this attack is to check the growth of Indian economy. India's economic growth has been the envy of nations like Pakistan and the attack could have been an attempt to divert the world's attention from India's growth and development.
Eight attacks took place in South Mumbai: at the crowded Chhatrapati Shivaji Terminus (CST) railway station; at two five-star hotels: the Oberoi Trident at Nariman Point, and Taj Mahal Palace & Tower near the Gateway of India; at the Leopold Café, a popular tourist restaurant in Colaba; at the Cama Hospital; at the Orthodox Jewish-owned Nariman House; at the Metro Adlabs movie theatre; and at the Mumbai Police Headquarters where at least three high-level officers, including the chief of the Anti Terrorism Squad of Maharashtra, were killed by gunfire. There was also an explosion at Mazagaon docks in Mumbai's port area. The tenth incident involved a taxi blast at Vile Parle near the airport but it is uncertain whether this is connected with the South Mumbai attacks. It was a well-planned terrorist attack.
The aim of this attack was to kill more than 5000 innocent people but thanks to out security forces and Mumbai Police who quicly controlled the situation and finally arrested and killed most of the terrorists. A less know terrorist gang, Deccan Mujahideen has claimed responsibility of this attack by email sent to news organizations. This email came from Pakistan. So the investigators are saying that this attack has its connection in Pakistan. According to recent police reports, the one terrorist who was captured alive disclosed that the attackers belonged to the Pakistan-based Lashkar-e-Taiba Islamist group.
After the attack, all schools, colleges, and most offices, including the Bombay Stock Exchange and National Stock Exchange remained closed on 27 November 2008. Shooting of Bollywood films and TV serials were also stopped. Many international airlines temporarily discontinued operations to Mumbai. The two remaining one-day internationals of the seven match series between the visiting England cricket team and India were canceled. Today, Shivraj Patil, the home minister of India has resigned taking moral responsibility for the security lapse.
So, What Next ?
Indian should attack Pakistan and end all sort of terrorist activities in Pak-occupied Kashmir. At this moment, this is not viable solution. US will never support India in such a situation. Also there are chances of nuclear war. But then what is the solution? You have any idea. Post your comment.