Have you heard about PayPal? It is an e-commerce payments gateway or service provider which allows payments and money transfers to be made through the Internet. PayPal performs payment processing for online vendors, auction sites, and other corporate users, for which it charges a fee. Through PayPal, it is possible to transfer money to bank accounts also. This facility is available for bank accounts in India. So sending and receiving money has become very simple with the evolution of internet. Besides PayPal, there are many other ways to send money to India. Today I will tell you five ways to send money to India through internet.
PayPal — If you are an NRI, then you can use PayPal to send money to your relatives in India. Just make a free account on PayPal, add your credit card and transfer funds to PayPal. Once you have some money in the PayPal account, you can now transfer that money to any of your bank account in India directly from the PayPal website. If you withdraw money greater than 7000 rupees then there is no transaction fees. But you have to pay 50 rupees for any transaction less than that amount.


For sending your money from PayPal to your bank account in India, you have to enter bank account number and the IFSC code of the bank branch where you have the account. IFSC code is an 11 digit code maintained by The Reserve Bank of India.Banks where you can send the money are SBI, HDFC, ICICI, ING VYSYA, Axis Bank, Standard Chartered, Bank Of India, Canara Bank, Union Bank of India, HSBC and Citibank.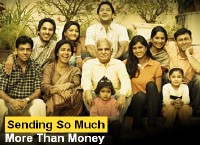 Western Union Money Transfer — Western Union is a financial services based in the United States. They provide reliable, fast and easy way of sending Money. There are over 50,000 Agent locations in India, including 8,500 Post offices and over 14,000 branches of leading banks. You can send money by just calling Western Union. It is one of the most popular ways through which NRIs send money to their families in India.

Xoom — With the help of Xoom.com money transfer service you can easily send money worldwide from any Internet-enabled computer to friends, family and businesses in over 30 countries including India. You can use PayPal, major credit cards, or have funds withdrawn directly from your U.S. bank account to fund the money transfer. Your recipient in India will receive cash in INR.
Remit2India — Remit 2 India offers complete internet based money transfer service where money is deposited in receiver's bank account across 54 banks Indian banks or a DD is delivered at the receiver's door step if the receiver has no account. The sending limit is $5000. It is a very simple three step process. Add your Beneficiary, add your Bank Account and then send Money. So simple.
Transfer through ICICI, Citi and HDFC banks. If you have any doubt over any of these methods then feel free to contact me.