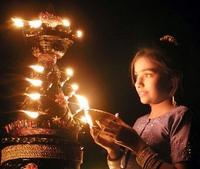 Today whole world is celebrating the festival of lights, Diwali. On this auspicious day, people light diyas, candles and lights to signify victory of good over the evil within an individual. Diya is actually a cotton string wicks inserted in small clay pots filled with oil. To celebrate Diwali, people wear new clothes and share sweets and snacks. In India, business communities start their financial year on Diwali and new account books are opened on this day. The basic reason behind Diwali is to celebrate the homecoming of Rama after a 14-year exile in the forest and his victory over Ravana.
According to the Hindu Epic Ramayan, the people of Ayodhya (the capital of his kingdom) welcomed Rama by lighting rows (avali) of lamps (d?pa), thus its name: Dipawali or Diwali. In South India, it marks the victory of Krishna over Narakasura. In Jainism, Diwali marks the attainment of nirvana by Mahavira in 527 BC. Sikh community also celebrate Diwali. The celebrate the return of Guru Har Gobind Ji, the sixth Guru of Sikhism, who was imprisoned along with 52 other Hindu kings at Fort Gwalior by Emperor Jahangir.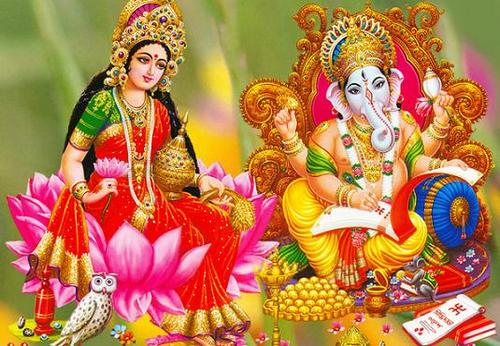 Lakshmi Ganesh Puja is the integral part of Diwali celebrations in India. Hindus observe the elaborate Lakshmi Ganesh Pooja with devotion and sincerity. It is believed that by worshipping Goddess Laxmi on the auspicious Diwali night one is blessed with riches and prosperity.
This year, President Obama is also celebrating Diwali. He is the first US President to celebrate Diwali in the White House. Barack Obama has wished everyone a "Happy Diwali and Saal Mubarak".
"This coming Saturday, Hindus, Jains, Sikhs and some Buddhists, here in America and around the world, will celebrate this holiday by lighting diyas, or lamps, which symbolise the victory of light over darkness, and knowledge over ignorance, And while this is a time of rejoicing, it's also a time for reflection, when we remember those who are less fortunate and renew our commitment to reach out to those in need" said Obama at a ceremony in the East Room.
May this Diwali
be as bright as ever.
bring joy, health and wealth to you.
brighten up you and your near and dear ones lives.
bring in you the most brightest and choicest happiness and love you have ever Wished for.
bring you the utmost in peace and prosperity.
triumph over darkness.
peace transcend the earth and the spirit of light illuminate the world.
Wish you a very happy Diwali.