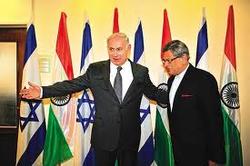 Now the time has come for India to choose between Israel and Iran. Who is better, long-term friend for India? Who will stand for India in the hour of need? Whose interests are better aligned with ours? These questions are very critical to the Indian foreign policy. To solve this puzzle, we need to go back in history and see the behavior of these two nations. Let's first see the case of Iran. There is no denying the fact that Iran is an important source of India's oil imports. It supplies 12% of India's oil. Moreover, it also provides us, access to Afghanistan and entire central Asia. But we should never forget the fact that Iran is an Islamic nation. It has been great supporter of Pakistan, another Islamic nation, on the Kashmir issue.
Iran's role has never been friendly to India. It provided military material to Pakistan during 1965 and 1971 Indo-Pak wars. No wonder, it's Muslim brotherhood that works most of the time. It also always supports pro-pak and anti-India resolutions at the OIC (Organization of Islamic Cooperation). How can we be friend with a country who wants Kashmir to be part of Pakistan? I have one more important data that will support my anti-Iran viewpoint. There are 6 millions Indias live in the gulf region, out of which only 1000 Indians live in Iran.
India is the largest customer of Israeli military equipment and Israel is the second-largest military partner of India after the Russian Federation. As of 2009, the military business between the two nations is worth around US$9 billion. Military and strategic ties between the two nations extend to joint military training and space technology. India is Israel's largest defense market, accounting for almost fifty percent of Israeli sales. The rise of Islamic terrorism in both countries have generated a solid strategic alliance between the two. Israel also supports India on Kashmir issue.
Some good things about Israel ::
Israel is one of the tiniest nations on the face of the earth, only about 8,000 sq. miles, 2½ times the size of Rhode Island and only slightly larger than the Canary Islands. The surrounding 22 Arab(Muslim) countries are 640 times larger than tiny Israel yet they expect Israel to turn over all the West Bank, Gaza Strip, the Golan Heights and half of Jerusalem they lost during the 1967 war. Israel produces more scientific papers per capita than any other nation by a large margin – 109 per 10,000 people — as well as one of the highest per capita rates of patents filed. In proportion to its population, Israel has the largest number of startup companies in the world. In absolute terms, Israel has the largest number of startup companies than any other country in the world, except the US (3,500 companies mostly in hi-tech). Outside the United States and Canada, Israel has the largest number of NASDAQ listed companies. Israel's $100 billion economy is larger than all of its immediate neighbors combined. Israeli scientists developed the first fully computerized, no-radiation, diagnostic instrumentation for breast cancer. Israel is the only country in the world that entered the 21st century with a net gain in its number of trees. In response to serious water shortages, Israeli engineers and agriculturalists developed a revolutionary drip irrigation system to minimize the amount of water used to grow crops. Israel has the highest percentage in the world of home computers per capita. The technology for AOL Instant Messenger was developed in 1996 by four young Israelis. The first PC Anti-virus software was developed in Israel in 1979.
…and about Islamic Republic of Iran :

Ek Baar Phir :: The essence of extra-martial affairs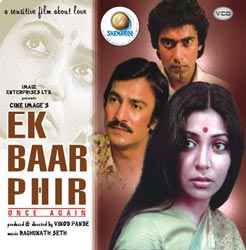 Last weekend, I got chance to watch this movie on YouTube. The movie is about the incompatibility between a popular film star husband and a traditional wife which ultimately results into extra marital relationship.
Movie Story ::
Kalpana (Deepti Naval), a middle class girl, is excited about her marriage with a film star Mahendar Kumar (Suresh Oberoi). The star is busy with his profession and is a flirt. Kalpana learns this after marriage and finds Mahendar has no time to spend with her. Both happen to visit London on Mahendar's project. There she meets a young student Vimal (Pradeep Verma), studying arts at London University, who makes art works of the people around and exhibits them. He requests Kalpana for a sketch, which she obliges. They meet very often and fall in love with each other. With him, Kalpana sees the new phase and joy of life, which she has not seen earlier. They get intimate and Kalpana finds herself guilty of this. She stops meeting Vimal for some time. One day she finds a letter from Vimal and replies him. She starts meeting him again and finds herself swaying between Mahendar and Vimal. At this juncture, she decides to break away from Mahendar and joins Vimal to lead a joyful life. The rest story shows the turn of events thereafter, in the lives of Mahendar, Kalpana and Vimal.
Sometimes, money can't buy everything, especially for a newly weded middle class girl. In her initial married life, she needs care, affection and love of her husband. Absence of which can cause serious troubles in the conjugal life. This aspect of married life has been shown in the movie, Ek Baar Phir. Do watch this movie.. Ek Baar Phir 🙂
and last but not the least, our dear Mr. Rahul Gandhi. A nice joke on him. 🙂
During the nineties when Rahul Gandhi was generally jobless in US, Rahul Gandhi wanting to earn some money, decided to hire himself out as a handyman-type and started canvassing a wealthy neighbourhood. He went to the front door of the first house and asked the owner if he had any jobs for him to do.
"Well, you can paint my porch. How much will you charge?"
RG said, "How about 50 dollars?"
The man agreed and told him that the paint and ladders he would need were in the garage.
The man's wife, inside the house, heard the conversation and said to her husband, "Does he realize that the porch goes all the way around the house?"
The man replied, "He should. He was standing on the porch."
A short time later, Rahul Gandhi came to the door to collect his money.
"You're finished already?" he asked.
"Yes," Rahul Gandhi answered, "and I had paint left over, so I gave it two coats."
Impressed, the man reached in his pocket for the $50. "And by the way," Rahul Gandhi added, "that's not a Porch, it's a Ferrari."