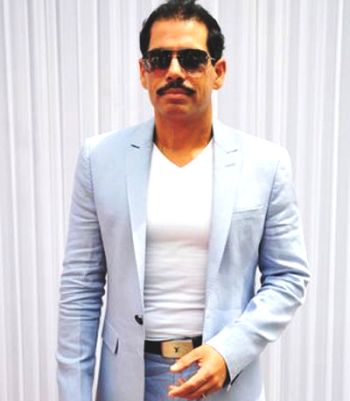 Do you think it is possible for a normal common man in India to grow his wealth from 50 lakh to 300 crore in 3 years? There is a person who did this almost impossible task. His name is Robert Vadra. His wealth grew from Rs 50 lakh to over Rs 300 crore in a period of three years. Vadra bought property worth crores of rupees between 2007 and 2010 with an unsecured interest free loan of Rs 65 crore from DLF. Vadra secured the loan from DLF to companies floated by him and his mother with a seed capital of just Rs 50 lakh. In India, success in business depends on close relationships between business people and government officials and he is a perfect example of a relationship between business and politics.
In Wazirabad, Haryana 350 acres of land was acquired for Industrial purpose and then given to DLF for building apartments and in this Robert Vadera got 7 flats in Magnolia and 10,000 sq.foot penthouse in Aralia. He bought DLF properties worth Rs 65 crore for Rs 5 crore.
Now there are many questions which should come in the mind of India citizens. Why did DLF give Rs 65 crore loan to Vadra without any interest? What benefit did Vadra provide to DLF in lieu of this interest free loan? What services Robert Vadra provide to its clients such as DLF? Is Robert Vadra Corrupt and symbolise Crony Capitalism in India?
Prima Facie these are crimes under Prevention of Corruption Act. But the point is, who will investigate him? He's married into India's most prominent political family (Nehru-Gandhi family). Does that mean he can do anything. Can we expect neutral investigation from CBI or Income Tax Department? Shouldn't there be an independent third party investigation?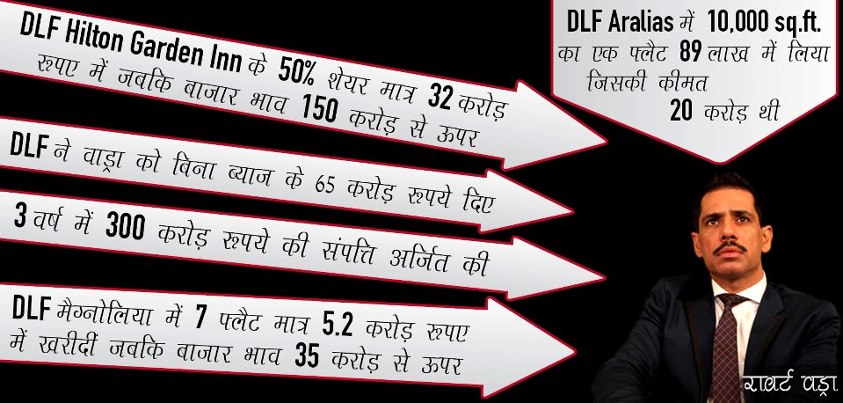 Watch full press conference of Arvind Kejriwal, Prashant Bhusan and Shanti Bhushan
But do you know, all this information was in public domain (Economic Times Article on Robert Vadra) from last 18 months, but neither media nor opposition raised this issue. I think, there is an unwritten consensus amongst political parties that political leaders of various parties would not attack each other's families and children. And media can't dare to touch the first family without sufficient proofs and evidences.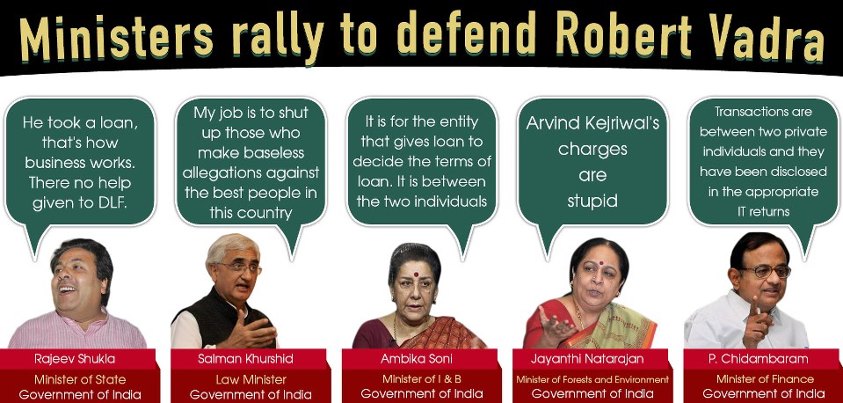 I am also surprised to see the Union Ministers defending Robert Vadra like anything. Congress Party is making laughing stock of itself in front of entire nation. The sycophancy of Congress ministers was nakedly displayed on national TV, this weekend. Kejriwal-Bhushan duo deserves to be applauded for directly attacking the first family. Only two people have done it before : Modi & Swamy. Only few people have guts to attack the Delhi Sultanate. Let's hope more from Kejriwal and Bhushan in the coming days.
Also, don't forget to watch this Arvind Kejriwal's interview on Karan Thapar's Devil's Advocate.
What's your take on this issue? Do share your opinions!