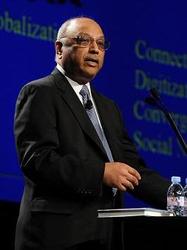 Dr C K Prahalad, one of the most famous and renowned management gurus, passed away in San Diego, United States on Friday. He was only 69 years old. He is survived by his wife, a son and a daughter. His full name was Coimbatore Krishnarao Prahalad. He was a globally known figure who was consulted by the top management many world famous companies. His research specialized in corporate strategy and the role of top management in large, diversified, multinational corporations. In 2009 he was named the world's most influential business thinker on The Thinkers 50 list, published by The Times.
At the early age of 19, he started his career with Union Carbide where he was recruited by the manager of the local Union Carbide battery plant after completing his B.Sc degree in Physics from Loyola College, Chennai. Four years later, he did his post graduate work in management at the Indian Institute of Management Ahmedabad. At Harvard Business School, Prahalad wrote a doctoral thesis on multinational management in just two and a half years, graduating with a D.B.A. degree in 1975.
He then returned to India, where he taught at the Indian Institute of Management Ahmedabad. He returned to the United States, where he held position of the Paul and Ruth McCracken Distinguished University Professor of Corporate Strategy at the Stephen M. Ross School of Business in the University of Michigan.
He is author of many best-sellers in corporate strategy including The Core Competence of the Corporation (Harvard Business Review, May-June, 1990). His international bestsellers include
"Competing for the Future"(with Gary Hamel), 1994,
"The Future of Competition," (with Venkat Ramaswamy), 2004
"The Fortune at the Bottom of the Pyramid: Eradicating Poverty through Profits," Wharton School Publishing, 2004.
"The New Age of Innovation." In Press
We have lost an outstanding management guru, a visionary, a great man. May God give rest to his soul.