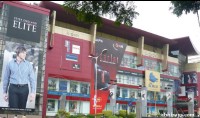 If you are living in any metro city, then you must be aware of the mall culture. A mall or better say, shopping center is a big building that contain a variety of retail units, with interconnecting walkways enabling visitors to easily walk from unit to unit. At present, I am living in Bangalore where you can find many shopping malls like Total, Garuda, Bangalore Central, Forum etc. But out of these malls, I prefer to go to The Forum. It is the most popular shopping mall in Bangalore.
It is located in the Koramangala region of Bangalore which at a mere 10 minutes drive from Brigade Road. This Mall is very popular among the youth in Bangalore and an attraction to most of the persons coming to Bangalore. The Forum is surrounded by big companies buildings like Bosch, Oracle, Accenture and HP. Here you can find products and services for the leading retailers in the world.

It has 650,000 sq.ft. of shopping space, one of the largest shopping malls in the country, developed and owned by Prestige Group. It is an ideal place for shopping right from nail-cutter, shoes to equipments for Gym, home furnishings, electronic goods, books, video games, CDs, VCDs and DVDs in LandMark, office stationery. In this mall you can enjoy the tasty food at Transit, KFC, Pizza Hut and Mac Donald's.
The mall is flooded with shops of Global brands like Westside, Soch, Isis, Mustard, Weekender, Tommy Hilfiger, Levis, Provogue and Benetton. Also, there is full facility for entertainment. There is multiplex, PVR, with 11 screens showing the latest movie, having stadium seating, ultra large screens and Dolby Digital sound. Other things like close circuit security, computerized parking management systems, ATM machines, 100% generator backup, centralized air conditioning are prime attractions in this mall.
The Forum Mall Timings ::
Shopping
Mon – Sun 10:00 AM to 9:00 PM
Food & Beverages
Mon – Sun 11:00 AM to 11:00 PM
PVR Movies
Mon – Sun 10:00 AM to 9:45 PM
Location Map of The Forum Mall ::