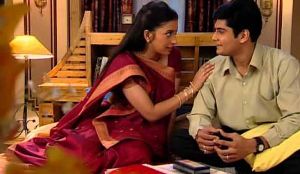 What is love? Is it some intense feeling of deep affection or merely sexual attachment to someone? No doubt, the definition of love is very complex. But today we will not go into the intricacies of love and its different formats. Just I am planning to share and discuss the biggest love story even telecasted on Indian Television, yes the love story of Mihir and Tulsi. Their story shows how intense can love be? Whenever one talks about the ideal pair of Television, two names almost immediately come to mind- Mihir and Tulsi. The love story of Mihir and Tulsi is a very famous one and is no less than a legend. Even today, people know them as Mihir Tulsi; the "and" in between is missing.
In this love story, Tulsi, the ideal daughter of his father who then falls in love with the grandson of Govardhan Virani rich business tycoon Mihir Virani and marries him.
The story begins on Amba's birthday – a day that no one in the family, except her husband, her grandson Mihir and Tulsi, the daughter of the pujari, seem to remember. In order to make up for the lapse on their part, the Viranis propose to have dinner together. The bahus – Savita, Daksha and Gayatri – decide to order food instead of cooking. This embarrasses Amba, angers her sons, gives the three daughters-in-law more reason to crib against Amba and sets the tone for the way relationships proceed for the major part of the serial.

Mihir returns from America and takes over the reins of the family business. He goes to the family temple and there he bumps into Tulsi – the daughter of the family pujari.

Savita, Daksha and Gayatri plan Mihir's wedding. Mihir meets a prospective bride called Niharika, but when she seems undecided about what she wants to do, Mihir lies to her parents about his affairs in America, and wiggles out of the match.

In steps Payal – with a proposal for Mihir. It is soon taken for granted that Payal will be marrying Mihir. But the differences between the two are apparent – and Tulsi and her dad, the pujari talk about this. Payal, in the meantime, goes over to the Virani household and tries to sniff out the undercurrents in the house.

Payal snubs Tulsi. When Mihir hears about this, he goes to apologise to Tulsi. Payal, however, does not apologise for her conduct. She does not go over to meet Chirag either – after he is brought home by the police on suspicions of attempting to kill himself, because he has flunked in his exams.

Mihir and Tulsi discover that they like each other. Savita stops Tulsi from coming to her house. Payal's mom goes to the pujari's house and insults him and Tulsi, as a result of which he suffers a heart attack. Mihir then breaks off his engagement to Payal and threatens his family that if he is forced to marry her, he will return to America.

Mihir proposes to Tulsi. Savita, in the meantime, has already planned to get Mihir engaged to Payal all over again. Plots and counter-plots fly thick and fast – and Mihir and Tulsi get married in secret, much to Savita's anger.
You can watch the entire love story in the following 20 episodes of Kyonki Saas bhi Kabhi Bahu Thi ::
Mihir Tulsi Love Story Episode 1
Mihir Tulsi Love Story Episode 2
Mihir Tulsi Love Story Episode 3
Mihir Tulsi Love Story Episode 4
Mihir Tulsi Love Story Episode 5
Mihir Tulsi Love Story Episode 6
Mihir Tulsi Love Story Episode 7
Mihir Tulsi Love Story Episode 8
Mihir Tulsi Love Story Episode 9
Mihir Tulsi Love Story Episode 10
Mihir Tulsi Love Story Episode 11
Mihir Tulsi Love Story Episode 12
Mihir Tulsi Love Story Episode 13
Mihir Tulsi Love Story Episode 14
Mihir Tulsi Love Story Episode 15
Mihir Tulsi Love Story Episode 16
Mihir Tulsi Love Story Episode 17
Mihir Tulsi Love Story Episode 18
Mihir Tulsi Love Story Episode 19
Mihir Tulsi Love Story Episode 20
Mihir Tulsi Photos ::