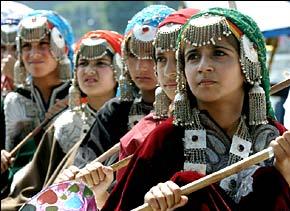 Jammu and Kashmir's  chief minister Omar Abdullah today condemned the alleged heckling of separatist Syed Ali Shah Geelani during a seminar in New Delhi and said such attacks were of no help in solving the Kashmir issue. He also used very strong language and tweeted "these Bhagat Singh Kranti Sena (BSKS) and ABVP goons are bloody idiots." Syed Ali Shah Geelani is a prominent Islamist, anti-India, pro-Pakistan, separatist political leader from the state of Jammu and Kashmir. Whenever everything looks fine in J&K, he tries to vitiate the atmosphere by his inflammatory speeches. 
Last year, he condemned the killing of Osama Bin Laden by the US army. Recently, the Delhi Police questioned him for recommending the name of alleged Lashkar-e-Taiba (LeT) operative Ahtesham Malik for a Pakistani visa. His ultimate goal of life is to establish Islamic state in Jammu & Kashmir.
Everybody knows what the Ali Shah Geelani's Jamaat-e-Islami wants: It wants shariah in Kashmir. See this YouTube video, where Geelani says "Duniya mein kewal Islaam Chalega aur ham sab pakistani hain"
Now let's come to the point. The incumbent chief minister of Jammu and Kashmir is supporting the supporters of Pakistan. Don't you think it is a sad day for unity and integrity of India? Using words like "bloody idiots" is highly inappropriate for CM of a state. Omar should apologize unconditionally for what he said. He is forgetting that he is a public servant and holds a responsible position.
I don't think Bhagat Singh Kranti Sena (BSKS) and ABVP guys are idiots. The fact of matter is that, they are patriots and the entire pseudo-secular community of India is afraid of these people.
But the question is who is real idiot? The real idiots are those people who
are seeking mercy pleas for Afzal Guru, who was convicted of conspiracy in the December 2001 attack on the Indian Parliament and was sentenced to death by the Supreme Court of India in 2004.
are supporting secessionist movements in Kashmir.
are planning to establish sharia in the state of Jammu and Kashmir.
are the people who talk about the poor condition of Kashmiri muslims but avoid to discuss anything about ethnic cleansing and exodus of Kashmiri Pandits from the valley.
support terrorists like Osama Bin Laden.