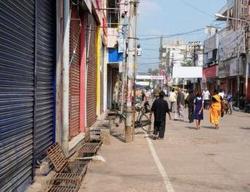 Bandh is a Hindi word whose meaning is 'closed'. Bharat stands for India. Bharat Bandh is a form of protest which is mainly used by political parties in India. During a Bandh, a political party or a community declares a general strike. Normally in any Bandh or strike, the community or political party declaring a Bandh expect the general public to stay in their homes and avoid any work. The shopkeepers are expected to keep their shops closed and the public transport services like buses and cabs are supposed to stay off the road and not carry any passengers.
Bandhs have become a powerful tool for showing protest against the Government policies. But its misuse also creates problems for common man. In 1998, the Supreme Court of India tried to "ban" bandhs but finally failed due to political parties of India. However in 2004, the Supreme Court of India fined two political parties, Bharatiya Janata Party (BJP) and Shiv Sena for organizing a bandh in Mumbai as a protest against bomb blasts in the city.
Tomorrow we have Bharat Bandh. This Bharat Bandh (nation-wide strike) has been initiated by the entire opposition together with the Bharatiya Janata Party-led National Democratic Alliance and Left parties. They are demanding a rollback of recent hikes in fuel prices. The other reason of the Bharat Bandh is Government's failure to control price-rise in the country.
The opposition parties are claiming that the Congress led UPA government had become "insensitive" to the issue of price rise. Janata Dal-United chief Sharad Yadav has claimed that it was the first such instance of opposition unity after the "JP movement" in the mid-seventies. According to the experts, the impact of the bandh is likely to be the worst in at least 10 states (ruled by opposition parties).