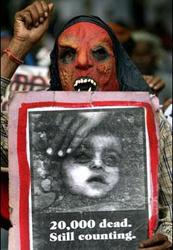 Bhopal Gas Tragedy was the worst industrial catastrophe in the Indian History. It occurred in 1984 at the Union Carbide India Limited (UCIL) pesticide plant in Bhopal, the capital of Madhya Pradesh. At the time of accident, UCIL was the Indian subsidiary of the U.S. company Union Carbide Corporation (UCC). UCC is now a subsidiary of Dow Chemical Company. At the midnight on December 3, 1984, there was a leak of methyl isocyanate (MIC) gas and other toxins from the gas plant. This leakage affected around half million people. According to the official data, the immediate death toll was 2,259. However, the government of Madhya Pradesh confirmed a total of 3,787 deaths due to gas lekage. But other government and non-government agencies estimate more than 15,000 deaths.
Thousands of children died after the accident or were permanently disabled. Around 70 per cent of the children born before the disaster continue to suffer from respiratory diseases and 55 per cent from affected eyesight. After the accident, many pregnant women suffered miscarriages, while others delivered malformed babies. More than half the children exposed to the gas in their mothers' wombs died. Many others were born with deformities and permanent disabilities.
Even after 25 years after the gas leak, 390 tons of toxic chemicals abandoned at the UCIL plant continue to leak and pollute the groundwater in the region and affect thousands of Bhopal residents who depend on it. This is a very serious issue. Many civil and criminal cases are still pending in the United States District Court, Manhattan and the District Court of Bhopal, India, against Union Carbide.
Two days back seven ex-employees, including the former chairman of UCIL, were convicted in Bhopal of causing death by negligence and sentenced to 2 years imprisonment and a fine of 1 lakh Rupees each. They were held guilty under Sections 304-A (causing death by negligence), 304-II (culpable homicide not amounting to murder) and 336, 337 and 338 (gross negligence) of the Indian Penal Code.