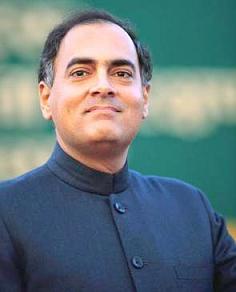 The ghost of Bofors is back and now with a bang. It has again started haunting the ruling Congress Party. Let's first try to find out what exactly Bofors is and why it is considered as the major corruption scandal in India. Bofors Scandal came into picture in 1986 (25 years ago) when senior Congress leaders including the Indian prime minister, Rajiv Gandhi were accused of receiving kickbacks from Bofors AB for winning a bid to supply India's 155 mm field howitzer. It was a historical and highly political because for the first time since independence any Indian Prime Minister was involved in a massive corruption. It was this Bofors scandal which ultimately led to the defeat of Gandhi's ruling Indian National Congress party in the November 1989 Indian general elections. I have compiled 10 things that you should know about Bofors Scandal. It will help you to know more about this scandal.
What is Bofors Deal? During mid eighties, the Indian Government bought 155 mm howitzers from AB Bofors, a swedish company in a Rs.1,500 crore ($285 million) deal. The Bofors scandal's news first came into public on April 16, 1987 when a Swedish Radio broadcast claimed that AB Bofors had paid kickbacks to top Indian politicians and defence officials to secure the deal. According to many newspapers, the scale of the scandal was to the tune of 640 Million Rupees.
Bofors Scandal broke out during Vishwanath Pratap Singh's tenure as defence minister. V.P. Singh stated during a testimony that Quattrocchi had sought appointment with him on a number of occasions but he did not give him any appointment. Rajiv Gandhi then asked him to meet Mr. Ottavio Quattrocchi (an Italian businessman).
The Bofors Scandal was revealed through investigative journalism by Chitra Subramaniam and N. Ram of the newspapers the Indian Express and The Hindu. In 1987, Swedish Police chief Sten Lindstrom also known as Swedish Deep Throat, leaked over 350 documents to Chitra which helped her to further report this Scandal in the newspaper (The Hindu) she was working for.
The middleman or you can say the villain associated with the scandal was Ottavio Quattrocchi, an Italian businessman who represented the petrochemicals firm Snamprogetti. Quattrocchi was reportedly close to the family of Gandhi and emerged as a powerful broker in the 1980s between big businesses and the Indian government.
There are allegations that the then Prime Minister Rajiv Gandhi may have soft-pedalled the probe into kickbacks in the gun deal to protect Italian businessman Ottavio Quattrocchi.
Why the ghost has come back? 25 years after Bofors, Lindstrom, who led the Bofors probe in his country, revealed massive cover up by his Indian counterparts, in an interview with Chitra Subramanian in "The Hoot".
According to Lindstrom, there was no evidence to suggest that Rajiv Gandhi had taken a bribe in the Bofors deal but he did nothing to prevent the cover-up that followed in both India and Sweden to protect Italian businessman Ottavio Quattrocchi.
How Amitabh's name came into this Scandal? On Jan 31, 1990, the Dagens Nyheter, a Swedish daily newspaper, reported that Swiss authorities had frozen an account belonging to Ajitabh Bachchan (Amitabh's younger brother) into which Bofors commissions were transferred from a coded account.
Now Lindstrom is saying that Indian investigators probing the scandal had during a trip to Sweden in 1990 "planted the Bachchan angle." The media is regarding as clean chit to filmstar Amitabh Bachchan in Bofors Scam.
Inspite of the associated controversies and scams, the Bofors guns have been proved very useful to Indian army. They were used extensively as the primary field artillery during the Kargil war (1999) with Pakistan and gave India 'an edge' against Pakistan in that war.