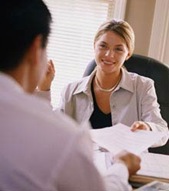 The most common non-immigrant visa is the multiple-purpose B-1/B-2 visa. These two are also known as the "visa for temporary visitors for business or pleasure." Visa applicants sometimes receive either a B-1 (temporary visitor for business) or a B-2 (temporary visitor for pleasure) visa, if their reason for travel is specific enough that the consular officer does not feel they qualify for combined B-1/B-2 status. B-1 visas may be issued for a period long enough to allow the visitor to conduct his or her business; they are usually granted for three months or less. In FY-2010 3,681,066 B visas were issued, and 1,261,318 (26%) were denied, so you should be careful while facing the B1 Visa interview. I have compiled the list of frequently asked B1 Visa interview questions. Please go through them once, before going for the actual B1 Visa interview.
Uses of a B1/B2 visa
Business or pleasure cover a wide variety of possible reasons to visit the United States. Under the category of temporary visitor for business, it can be used to:
Negotiate and sign contracts
Purchase supplies or materials
Hold business meetings or attend/exhibit at a convention
Settle an estate
Sit different types of exams and tests held inside the United States
Under the category of temporary visitor for pleasure, a B2 visa can be used to:
Travel within the US
Visit family or friends
Participate in activities of a fraternal, social, or service nature
Obtain medical treatment
US B1 Visa Interview Questions
Q. What is the purpose of your visit to the USA?
Ans. You have briefly explain the purpose. Make sure not to use keyword like work, doing assignment etc.
Q. How long you have been working with the current employer?
Ans. Higher the duration, greater will be the chances to get the Visa.
Q. Why were you chosen for this meeting/training/Knowledge transfer/Requirement gathering?
Ans. You can explain your work experience, expertise in the field, commitment to work etc.
Q. What is your designation?
Q. How much is your bank balance?
Ans. They will ask this question to see your bonding with current nation.
Q. Where you going to stay in US?
Ans. Tell the complete Address.
Q. How will you survive in US?
Ans. In most of the cases, the employer sponsors the visit.
Q. Is your any relative there in US?
Ans. Don't try to hide anything. Always remember honesty is the best policy.
Q. Are you married?
Ans. If you are married, your chances of getting the visa will be higher.
Q. Tell something about your current employer?
Ans. Just read the wiki page about your current company. This will help.
Q. Tell something about your client?
Ans. You should demonstrate good knowledge about your client, its business, long term goals etc.
Q. What are you current roles and responsibilities?
Ans. Be brief in the answer. Try to connect your current role with this onsite visit.
Q. Whom do you report in US?
Ans. Your answer should exactly match with the details you have given in DS 160 form and client's invitation letter.
Q. Can I see your business card?
Ans. Don't forget to bring business card for Visa Interview.
Q. Will you work there?
Ans. The answer should be NO. B1 visa is not for work or any productive/money making activity.
Q. Why are you required to attend the training in the US? Is it not possible to get it through video conferencing, webex etc.
Ans. Tricky question. Be prepared for this question.
Q. How can you assure me that you will come back?
Ans. Show your strong bond with current nation and family in your answer.
Q. Will you be involved in any production work?
Ans. NO (B1 visa is not for any production work)
Q. 8 week time, don't you think it is too long for training?
Ans. This is also one of the tricky questions, you may have to face during B1 Visa interview.
Q. Can you tell me the schedule breakup?
Ans. Your answer should match with the client's invitation letter.
Must have Documents for Business visa
US visa application form DS-160, confirmation page CEAC Barcode printout.
Visa application fee Or receipt of the fee payment.
Copy of interview appointment letter.
Passport valid for travel to the United States with a validity date at least six months beyond the intended period of stay.
Following documents are recommended, if you are employed and applying for the business visa sponsored by your employer/company
A letter from employer requesting the Visa for the applicant addressed to consulate, indicating the purpose and length of the trip as well as the company's/ firm's intent to bear the costs of the entire trip, including lodging , food, medical and other expenses.
If you are business owner, bring proof of funds ( Bank statements, copy of passbook, Tax returns) that demonstrate your ability to support you trip.
Your business card ( if any).
Bring all documents about company's market and financial position with financial records, sources of funds, Tax papers and any News paper/press coverage or Advertisement brochures about the company.
If applicant is going to attend any business/educational/ commercial or professional seminar or conference you must have the event registration proof, letter of invitation, brochure of event , any printed/media/website printout having reference to this event.