Today I have added Infolinks ads in abhisays.com. Infolinks is market leader in the field of In-Text Advertising. Infolinks ads are very quick and easy setup. Just you need to add a few lines of javascript code in the footer. These ads are tightly integrated with your content, so there is no change in look and feel of website after the integration of these ads. Getting Infolinks is very easy, even for small websites or blogs.
There are no minimum requirements for page views or visitors. Infolinks offers several convenient ways for publishers to receive their payments. You can choose PayPal, Bank Wire, ACH (Only for U.S. bank accounts) for getting the Infolink payments.
How In-Text Advertising works?
In-Text advertising inserts text link ads within the content of the website or blog, usually in the form of double-underline hyperlinks. In case of Infolinks, you can customize it to one-underline hyperlinks. Upon a hover of the mouse, a floating informational bubble opens with content from an advertiser. If clicked, the visitor is directed to the advertiser's website and you earn advertising revenue; otherwise, when the mouse is moved away from the hyperlink, the bubble disappears.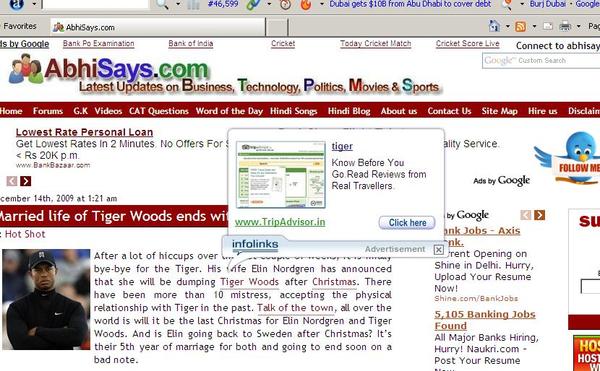 Kontera :: One more option for In-Text Advertising ::
Kontera is one of the main competitors of Infolink in the field of In-Text Advertising. Kontera is very well established and has been around for a longer time as compared to Infolink. Kontera shows more relevant ads for each highlighted keyword as compared to Infolinks but as far as earnings and CTR are concerned, Infolinks is much better. Even sometimes Infolinks generates almost 4 times as much revenue per day as Kontera.
Let's take experience of Solid Nuts (one of the regular visitors of Digital Point)::
Just to show you how low paying kontera is check out both screenshots. The first one is from Aug 01 2008 – Aug 31 2008 using kontera, I made $29.62 with 160,013 impressions ($0.19 eCPM($)). From Oct 1, 2008 – Oct 26, 2008 using Infolinks I made $62.08 with 119,202 impressions and ($0.49eCPM($)).
Please note, earning also greatly depends on how you have optimized your ads, ads placement and website.
Now a days many old Kontera users are shifting to InfoLinks as it has offered higher payouts and better performance in terms of page and link load time. Infolinks' javascript loads faster so it reduces page load time for the website.
I have also started my experiment with Infolinks as my experience with Kontera was not good. Let's see what happens.