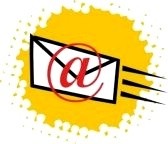 Do you know about the gmail policy of sending mails to large number of users at a time. Then never try to send emails to more than 500 recipients at a time. As Google will temporarily disable your account if you send a message to more than 500 recipients or if you send a large number of undeliverable messages. In the case if you are using a POP or IMAP client (Microsoft Outlook, Mozilla Thunderbird or Apple Mail etc.), you may only send a message to 100 people at a time and if you access Gmail from the browser, you may not address an email message to more than 500 people at a time. So the best email service is doing like this, then there is no point in discussing others. Now the question arises that if a person is involved in online business then sending emails to unlimited persons at a time is very important part of the business. What is the solution ? Yeah, there is a solution. I have just seen a bulk email sender software while googling on internet. Atomic Mail Sender (AMS) is a stand-alone bulk mailer software program with built-in tracking facilities to design, send and monitor bulk personalized messages.
AMS is not only a secure direct mailer but it also comes with excellent mail Tracker. Once you are registered with the Mail Tracker service and the campaign name is created in AMS, our system starts monitoring the status of every email sent out under that email campaign name.
Salient features of Atomic Bulk Mail Sender ::
It has got its own internal SMTP server and delivers mail messages directly to email recipients without your ISP mailbox.
Using standard 56K modem or 64K ISDN connection you can send hundreds personal email messages.
With AMS, you can also control and compare the effectiveness of your email campaigns by monitoring who, from what country and when opens your email, clicks links or loads images. So, being integrated with Atomic Email Tracker (web-based newsletter monitoring system), the program can be set to create an invisible code and insert it into sent messages.
Atomic Mail Sender 4.2 is available for only $79.85. There is a speical offer going on. You can purchase a pack of Atomic Mail Sender + 1-year Email Tracker service for $149. Buying this package means that you are getting Atomic Mail Sender at $21 only.
Don't put your gmail, yahoo, hotmail emails at stake while sending bulk mails. Better to use such bulk mail senders for secure business.