Today I will tell you about the most successful venture capitalists in world business. It is none other than Sequoia Capital which provides venture capital funding to founders of startups who want to turn business ideas into companies. It was founded by Don Valentine in 1972. The firm's partners include Don Valentine, Randy L. Ditzler, Greg McAdoo, Pierre Lamond, Michael Moritz, Doug Leone, Gaurav Garg, Michael Goguen, Mark Stevens, Jim Goetz, Roelof Botha, and Mark Kvamme. It has their offices in the US, China, India and Israel. Sequoia has funded enormously successful companies including Cisco Systems, Oracle, Apple, Google, Yahoo, Paypal, Electronic Arts, YouTube, NVIDIA, Cisco Systems, Oracle and Apple. Sequoia estimates that 10% of the NASDAQ's value is made up of firms they have funded. Their tagline "Entrepreneurs Behind the Entrepreneurs" rightly fits on their role in the business world.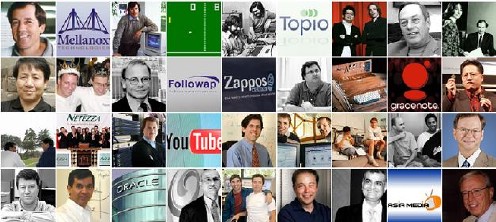 Sequoia Capital's venture capitalists have worked with innovators such as Steve Jobs of Apple Computer, Larry Ellison of Oracle, Bob Swanson of Linear Technology, Sandy Lerner and Len Bozack of Cisco Systems, Dan Warmenhoven of Network Appliance, Jerry Yang and David Filo of Yahoo!, Jen-Hsun Huang of nVIDIA, Michael Marks of Flextronics, Larry Page and Sergey Brin of Google, Chad Hurley and Steve Chen of YouTube, Sujal Patel of Isilon Systems and Dominic Orr and Keerti Melkote of Aruba Wireless Networks.
This is a big list of internet companies which have been funded by Sequoia Capital's venture capitalists.
51.com
56.com
AdBrite
Asia Media
Atom Entertainment
AtWeb
AutoNavi
BillPoint
BitComet
CafePress.com
Challenge Games
Collactive
Comsenz
CTS Media
Dash Navigation
DianPing
E-Loan
eGroups
eHarmony
Eons
ePresence
FON Wireless
Funny or Die
GameFly
Google
Guruji
HDT
Hintsoft
imeem
Ingle Games
Insider Pages
ITA Software
Jajah
Joost
Kayak.com
Kenshoo
Kontera
Link Exchange
LinkedIn
Mahalo
MarketLive
Marketwire
Meebo
Meraki
Mevio
Minglebox.com
MotoSport
MP3.com
Netshops
Olive Software
PayPal
Plaxo
Plumtree
Software
PopularMedia
QihooQuote.Com
RingCentral
RockYou
Searchme.com
Shaadi.com
Skyrider
Songbird
Stardoll
Sugar Inc.
SupplierMarket
The HealthCentral
ThinkCash
Times Internet
Travelguru
Trulia
Tutorvista
Unisfair
Uupark
UUSEE
WeatherBug
Widgetbox
Xoom
Yahoo!
YouTube
Zappos.com
Zhanzuo
If you have a really good business plan then you can also submit your business plan to Sequoia Capital.