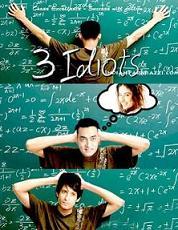 This December Vidhu Vinod Chopra is coming up with 3 Idiots. Three Idiots has been directed by Rajkumar Hirani, with Aamir Khan, Kareena Kapoor, R. Madhavan, Sharman Joshi, and Boman Irani in lead roles. It is scheduled to be released on December 25, 2009. According to Bollywood Hungama survey, 3 Idiots is the most anticipated Bollywood films of the year 2009. The film is based on a famous novel, Five Point Someone written by Indian writer Chetan Bhagat. However, Chetan Bhagat has said that he was not involved in the scriptwriting of this movie. 3 Idiots is likely to be a big Christmas present to all Bollywood fans. I am also eagerly waiting for the release of the film.
3 Idiots Cast ::
Aamir Khan as Rancho
Kareena Kapoor as Pia
R. Madhavan as Farhan
Sharman Joshi
Boman Irani
Mona Singh
Javed Jaffery
3 Idiots Synopsis ::
Two friends (Madhavan and Sharman Joshi) embark on a quest for a lost buddy. On this journey, they encounter a long forgotten bet, a wedding they must crash and a funeral that goes impossibly out of control. As they make their way through the perilous landscape, another journey begins: their inner journey through memory lane and the story of their friend – the irrepressible free thinker Rancho (Aamir Khan), who in his unique way, touched and changed their lives. It's a story of their hostel days that swings between Rancho's romance with the spirited Pia (Kareena Kapoor), and his clash with an oppressive mentor, Viru Sahastrabudhhe (Boman Irani). And then one day, suddenly, Rancho vanishes….

Who was he? Where did he come from? Why did he leave?

The friend who influenced and inspired them to think creatively and independently, even as the conformist world called them three idiots. Where is the original idiot now?

Finally in misty mountains of unparalleled beauty, the friends find the key to the secret.

Three Idiots is a comedy of ideas that is as provocative as funny, as wildly entertaining as insightful. A laugh-riot that talks about the most important of human pursuits: self-actualization.
3 Idiots Trailer ::

3 Idiots Movie Snaps ::