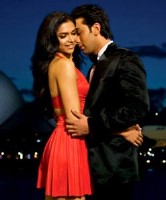 One more musical modern day saga from YashRaj banner. Nothing has changed. Big stars, big banner, nice songs and happy ending. Yeah friends, I am talking about the new movie of Ranbir Kapoor, Bachna Ae Haseeno. Here, Ranbir is surrounded by three actresses, Bipasha Basu, Minissha Lamba and Deepika Padukone. The movie has been directed by Siddharth Anand, who earlier directed Salaam Namaste and Ta Ra Rum Pum. It has been picturised at exotic locales in Australia, Italy and Switzerland. The title of the film has been taken from the 1980s super hit movie 'Hum Kissi Se Kam Nahin' song 'Bachna Ae Haseeno'. After a poor start in Saawariya movie, Ranbir Kapoor is back with a new avatar of a cool, trendy guy in Bachna Ae Haseeno. He has great expectations with this movie. In my opinion this role suits his personality so there are good chances of his success. He has given great performance as a Casanova who is amorously and gallantly attentive to women.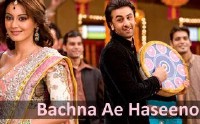 It is story of Raj Sharma (Ranbir Kapoor) from the age of 17 to 30. In this period of 14 years, he meets three girls, Radhika (Bipasha Basu), a glamorous girl from Mumbai, Mahi (Minissha Lamba), a small-town girl from Punjab, and Gayatri (Deepika Padukone), an NRI from Australia. The complete story revolves around Raj and his learnings from life. During his teen age Raj falls in love with small town girl Mahi (Minissha), who believes she has met her soul mate but Raj has completely different opinion about love. So their relationship comes to a sad end. Then comes Radhika (Bipasha). She also fall in love with Raj but finally finds that he is not made for her. After that Raj meets NRI Gayatri (Deepika), who lives in Sydney. Aware of Raj's philandering ways, Gayatri decides to teach him a lesson. Then something amazing happens in her life. To know more, you have to watch the movie.

The story is pretty simple but it has potential to keep your fingers crossed while watching the movie. I love its music. Its songs are on top of all the countdown shows. Vishal-Shekhar's music is excellent throughout the movie. However the some of the compositions have been derived from R D Burman's music. The title song is awesome as it has been taken from 'Hum Kissi Se Kam Nahin' super hit number by Kishore Kumar. Overall the movie is worth watching.