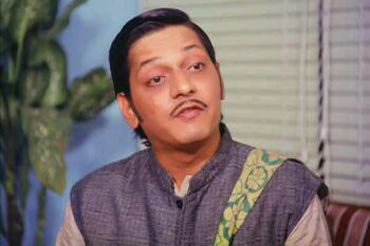 Bollywood, one of the largest centres of film production in the world, has a long history of light-hearted, humorous, funny, melodramatic and entertaining films. Hindi Comedy Movies are one of the best ways to relax and chill after a stressful and hectic day. If you are looking for the list of top Hindi Comedy Movies then there you are. I have compiled a list of some of the most successful and highly entertaining Hindi Comedy Movies. I have also added the YouTube links for all these movies.  They will help you to watch them online for free. These movies are one of the main reasons behind the huge popularity and success of Bollywood across the globle. Now, let's see the list.
1. Angoor :: Based on Shakespeare's famous play "The Comedy of Errors", Angoor is my favorite Hindi Comedy movie. I consider Angoor as the best comedy film ever made in Bollywood. It is a story of two pairs of identical twins separated at birth and how their lives go haywire when they meet in adulthood. And you know, Shahrukh Khan and Kareena Kapoor are going to play lead roles in its remake to be directed by Rohit Shetty. Shahrukh is all set to screw one more old classic (after Devdas and Don).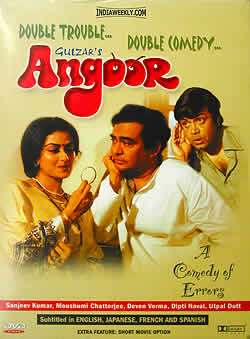 Angoor Plot ::
Raj Tilak (Utpal Dutt) and his wife (Shammi) are on a trip with their twin sons, both of whom they call Ashok. Since they look the same, they should be called the same, is Mr Tilak's reasoning. As fate would have it, they adopt another set of twins, both of whom they call Bahadur. An unfortunate accident then divides the family, leaving both parents with one child out of each pair of twins.

A few years later, Ashok (Sanjeev Kumar) is married to Sudha (Moushmi Chatterjee) and Bahadur (Deven Verma) is married to Prema (Aruna Irani). They all stay together with Sudha's younger sister Tanu (Deepti Naval). Into their lives enter the other Ashok, a detective novel aficionado, and Bahadur, an opium lover. Now there are two Ashoks and two Bahadurs in the same city. This is more than their families, the Jeweller, the Taxi Driver, the Inspector can handle.
Watch Angoor Online ::
2. Golmaal :: This film is just a magic. You can watch it again and again without getting bored. One of the best comedies of all time in Hindi cinema. It is a clean comedy without loud expressions or stupid facial gestures. The movie presents several situations of confusion, suspense, and drama – all of it with a touch of comedy and humor.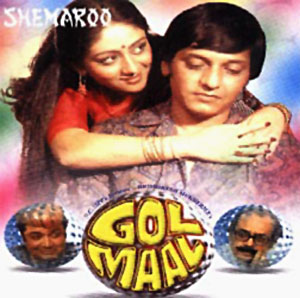 Golmaal Plot ::
Bhavani Shankar (Utpal Dutt), the man of traditional values and Ram Prasad (Amol Palekar) is desperately looking for a well paying job. For that matter he visits Bhavani's office with careful considerations given to all the requirements that he (Bhavani Shankar) likes.

Moustache-less persons are a big no-no to Bhavani Shankar, the story revolves around the confusion that happens when he (Bhavani Shankar) sees him (Amol Palekar) moustache-less in a hockey match.
 Watch Golmaal Online ::
3. Chashme Buddoor :: If you are looking for best romantic movie, go for Chashme Buddoor. It features Farooq Shaikh, Deepti Naval, Rakesh Bedi, Ravi Baswani and Saeed Jaffrey in main roles. The film is about three students; Siddharth (Farooq Shaikh), Omi (Rakesh Bedi) and Jai (Ravi Baswani) at Delhi University, who don't go home during summer vacation and how a girl Neha (Deepti Naval) comes in their life.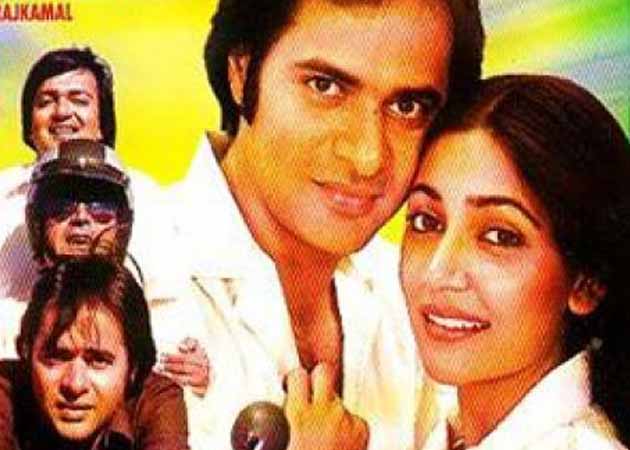 Chashme Buddoor Plot ::
Siddharth, Omi and Jomo are close friends and room mates who are studying at Delhi University. Siddharth has completed M.A in Economics and is preparing for PhD. He is very studious and spends most of his time with books whereas Omi and Jai are busy in chasing girls, watching movies or dramas; only common thing among them is smoking. One day Omi and Jai see a girl (Neha) who is new to their neighborhood.
Watch Chashme Buddoor Online ::
4. Chupke Chupke :: It's Dharmendra's best performance in comic role. It also features Sharmila Tagore, Amitabh Bachchan, Jaya Bachchan, Om Prakash, Usha Kiran, David, Asrani and Keshto Mukherjee in main roles. It is story of a Botany Professor Parimal Tripathi (Dharmendra) who falls in love with Sulekha Chaturvedi (Sharmila Tagore).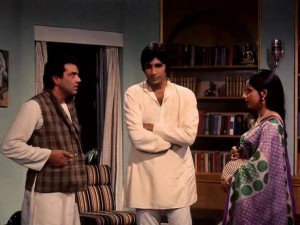 Chupke Chupke Plot ::
Professor Parimal Tripathi is a botany professor who falls in love with Sulekha Chaturvedi during a women's college botany excursion. She considers her jijaji to be highly intellectual and looks upon him as her idol. Parimal develops an inferiority complex thanks to Sulekha's excessive praise of her jijaji and decides to prove that he is in no way a lesser mortal. Jijaji, meanwhile, has written a letter to Haripad bhaiyya (David Abraham Cheulkar) asking him to send a driver who can speak good Hindi because his present driver James D'costa (Keshto Mukherjee) uses improper grammar. This provides the perfect opportunity for Parimal to get to see and interact with jijaji. Parimal becomes Pyaremohan Ilahabadi, a motor-mouth driver who pretends to hate the English language and so speaks only Hindi. So begins the comedy of errors, as Parimal and Sulekha play prank after prank on the unsuspecting jijaji.
Watch Chupke Chupke Online ::
5. Jaane Bhi Do Yaaro :: It was not immediately successful at the box office when released, but was eventually regarded as a cult classic. People still love to watch this movie due to its satirical depiction of the essential, timeless, human condition: supreme self-interest versus some moral/ethical anchor. It is a dark satire on the rampant corruption in Indian politics, bureaucracy, news media and business, and stars an ensemble cast that includes the likes of Naseeruddin Shah, Ravi Baswani, Om Puri, Pankaj Kapur, Satish Shah, Satish Kaushik and Neena Gupta. Kundan Shah won the 1984 Indira Gandhi Award for Best First Film of a Director for this movie.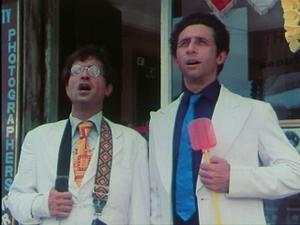 Jaane Bhi Do Yaaro Plot::
Professional photographers Vinod Chopra (Naseeruddin Shah) and Sudhir Mishra (Ravi Baswani) open a photo studio in the prestigious Haji Ali area in Mumbai, and hope to make enough money to keep it running. After a disastrous start, they are given some work by the editor of "Khabardar", a publication that exposes the scandalous lives of the rich and the famous. They accept it and start working with the editor, Shobha Sen (Bhakti Barve), on a story exposing the dealings between an unscrupulous builder, Tarneja (Pankaj Kapoor), and corrupt Municipal Commissioner D'Mello (Satish Shah). During their investigation, they find out that another builder Ahuja (Om Puri) too is involved in this dealing.
Watch Jaane Bhi Do Yaaro Online ::


6. Chhoti Si Baat :: Its another romantic comedy film directed by Basu Chatterjee. Considered one of the best Hindi comedy films of the 1970s, it is a nostalgic favourite for its quirky take on pre-hypercongestion Bombay. The film became a box office hit and also earned Filmfare nominations and a Filmfare Award for Best Screenplay for Basu Chatterjee. It also established Amol Palekar as having an uncommon comic talent for playing mousy characters, a role he would go on to repeat several times in his career.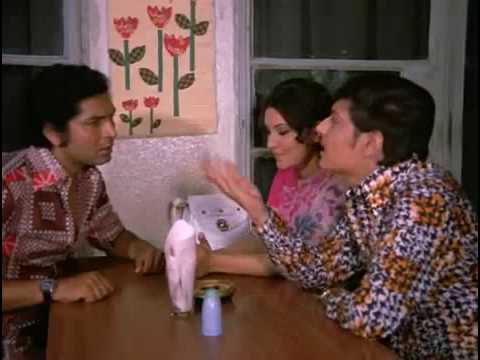 Chhoti Si Baat Plot ::
The story of a young shy person without any suave wanting to impress a girl with his simple methods goes unattended. So he seeks the help of a retired general who has his own techniques and understands the psychology of girls. Will Arun get his love or not forms the rest of the film.
Watch Chhoti Si Baat Online::
7. Andaz Apna Apna ::  Even though it was a box office disaster when it released, it has since gained a strong cult following over the years. Directed by Rajkumar Santoshi, Andaz Apna Apna features Aamir Khan, Salman Khan, Raveena Tandon, Karisma Kapoor and Paresh Rawal in the lead roles.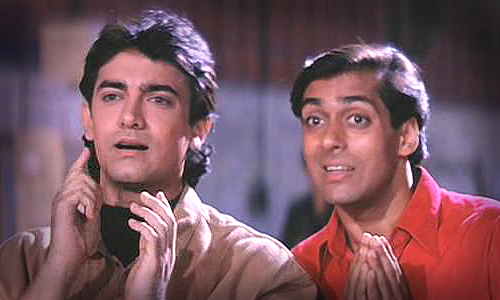 Andaz Apna Apna Plot ::
Amar (Aamir Khan) and Prem (Salman Khan) are two daydreamers with a common aim: getting rich by marrying a rich heiress, Raveena Bajaj (Raveena Tandon), daughter of Ram Gopal Bajaj (Paresh Rawal). The guys run into each other on a bus and soon realize that they have a common goal. The duo fail at various attempts to woo the lady.
Watch Andaz Apna Apna Online ::
8. No Entry :: Directed by Anees Bazmee and produced by Boney Kapoor, No Entry was Bollywood's biggest hit of 2005. It features an ensemble cast of Salman Khan, Anil Kapoor, Fardeen Khan, Lara Dutta, Celina Jaitley, Esha Deol and Bipasha Basu with a cameo appearance by Sameera Reddy.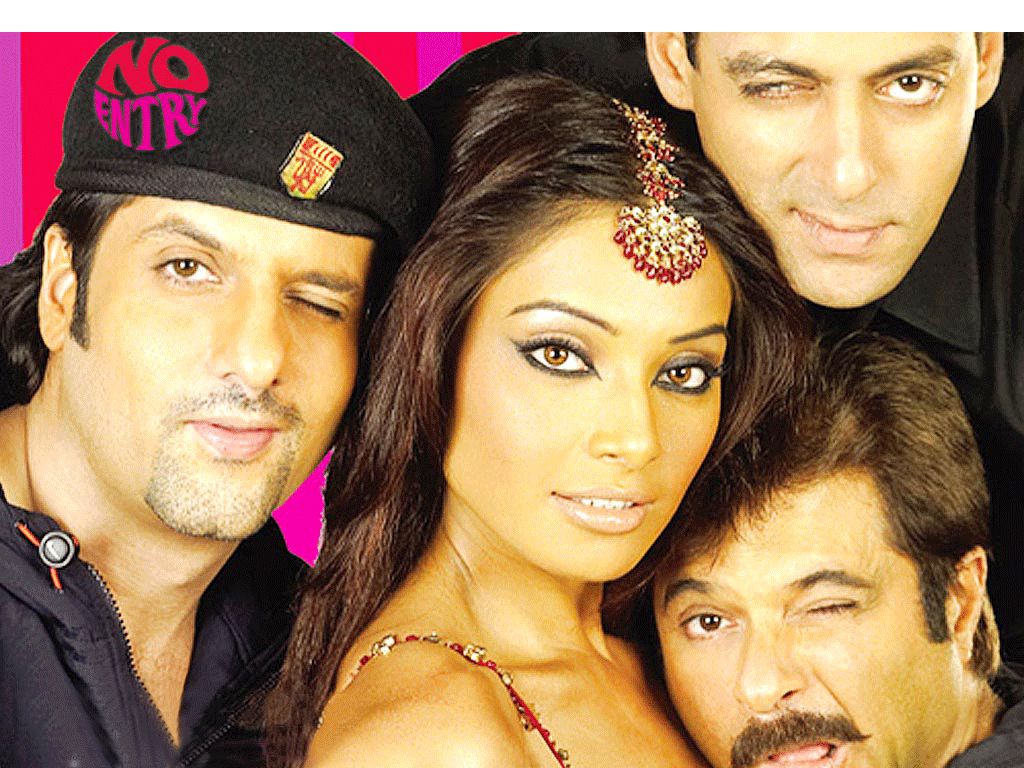 No Entry Plot ::
Kishen (Anil Kapoor) has a suspicious-minded wife, Kaajal (Lara Dutta), who thinks he is always having an affair with another woman, even though he is extremely faithful to her and wouldn't dream of betraying her in any way. Prem (Salman Khan) has the opposite situation. He is married to Pooja (Esha Deol), who seems to be very trusting, even though he has been having several affairs with numerous gorgeous women.
Watch No Entry Online ::
9. Bheja Fry :: It is an offbeat comedy film directed by Sagar Ballary and produced by Sunil Doshi. The film stars Rajat Kapoor, Vinay Pathak, Sarika, Milind Soman and Ranvir Shorey in lead roles. Though made on a small budget, the film managed to do very well at the box office.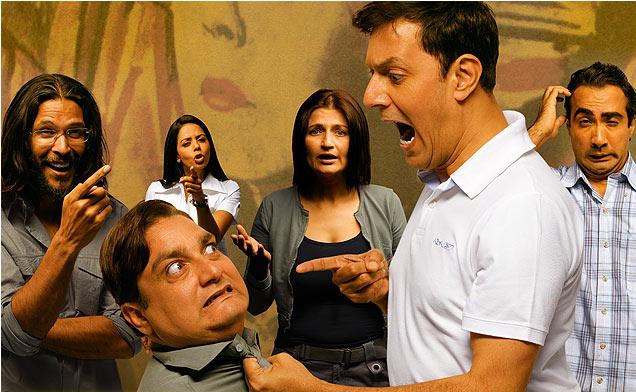 Bheja Fry Plot ::
Ranjeet Thadani (Rajat Kapoor) is a music producer married to Sheetal (Sarika) a singer. Ranjeet and his friends get together every Friday for a party. This is a different kind of party where they invite idiots to ridicule them behind the scenes and calling them "talent". They enjoy doing it so much that they don't even mind missing out on family appointments. One of Ranjeet's friends meets Bharat Bhushan (Vinay Pathak), an inspector for the income tax department, on a trip to Pune and decides that he could probably be a source of entertainment for Ranjeet. Ranjeet promptly calls Bharat and invites him for dinner.
Watch Bheja Fry Online ::
10. Munna Bhai M.B.B.S. :: Sanjay Dutt at his best. It is directed by Rajkumar Hirani and produced by Vidhu Vinod Chopra. The story involves protagonist Munna Bhai (Sanjay Dutt), a goon, going to medical school. He is helped by his sidekick, Circuit (Arshad Warsi). A great camaraderie between Munna and Circuit makes it all the more beautiful.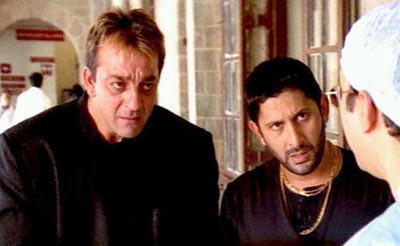 Munna Bhai M.B.B.S Plot ::
Murli Prasad Sharma, nicknamed "Munna Bhai" (literally "Brother Munna") is a bhai or gunda: a crime don in the Mumbai underworld. Given that his father had wished him to be a medical doctor, he creates the faux Sri Hari Prasad Sharma Charitable Hospital (named after his father) and pretends to live in accordance with this wish whenever his father (Sunil Dutt) and mother (Rohini Hattangadi) visit him in Mumbai.
Watch Munna Bhai M.B.B.S Online ::