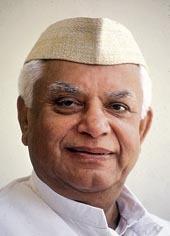 Today Mr. N.D Tiwari, the governor of Andhra Pradesh resigned from his post due to the allegation by a local news channel (A B N Andhra jyothi) that, he was involved in the sex scandal. ABN Andhra Jyothi is a Telugu News Channel which was launched on October 15, 2009 by the Telugu daily – Andhra Jyothi. Is it some stunt of this news channel to gain some immediate popularity, because it a very new channel? God knows! But we can't ignore the video clip shown by the TV channel. According to the channel's story, N D Tiwari is allegedly a sex addict who needs nubile young women. ABN has also claimed that neither the news story nor the tapes are fabricated.  Let's see the original video in which N D Tiwari is allegedly doing sexual activities with 3 women.
You will be surprised to know that he is 85 years old. How can we expect such a behaviour from a 85 years old man? What are your opinions on this issue? Do post your comments.
N D Tiwari Sex Scandal Video
N D Tiwari's Profile ::
N.D. Tiwari was the chief minister of Uttar Pradesh three times: from January 1976 to April 1977, from August 1984 to September 1985 and from June 1988 to December 1988. He was a contender to be Prime Minister of India in the early 1990s after the death of Rajiv Gandhi. He later served as the Chief Minister of Uttarakhand from 2002 through 2007. He was appointed governor of Andhra Pradesh in August 2007.