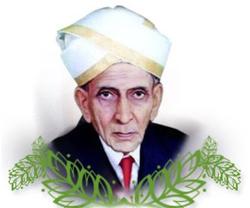 15th September is celebrated as Engineers' Day in India. It is the birthday of Sir Mokshagundam Visvesvarayya. Engineer's Day is a tribute to the greatest Indian Engineer and statesman. He served as the chief engineer during construction of Krishna Raja Sagara on the Kaveri River near Mysore. He was also involved in the construction of many dams in the Bombay presidency (Maharashtra). The dams built under his supervision are living testimony to his brilliance, engineering skills, honesty, great work and dedication.
He was born to Srinivasa Sastry and Venkachamma at Muddenahalli village, Kanivenarayanapura hobli, Chikkaballapur District of Karnataka. At that time it was part of princely state of Mysore.
He did his B.A. from the Madras University in 1881 and then studied civil engineering at the College of Science (College of Engineering), Pune.
After completing his engineering, he got a job in the Public Works Department (PWD) of Bombay. Later he joined the Indian Irrigation Commission where he implemented an extremely intricate system of irrigation in the Deccan area.
He became the first engineer to attain status when he designed a flood protection system to protect the city of Hyderabad from floods.
He is known as the "Father of modern Mysore state" as he played the key role in the foundation of the Mysore Soap Factory, the Parasitoide laboratory, the Mysore Iron & Steel Works (now known as Visvesvaraya Iron and Steel Limited) in Bhadravathi, the Sri Jayachamarajendra Polytechnic Institute, the Bangalore Agricultural University, the State Bank of Mysore, The Century Club, Mysore Chambers of Commerce and numerous other industrial ventures.
He also supervised the construction of the KRS dam across the Cauvery River. At that time, this dam was the biggest reservoir in Asia.
He is a recipient of the Indian Republic's highest honour, the Bharat Ratna, in 1955.
He was knighted as a Commander of the Indian Empire by King George V for his contribution in the field of engineering.
He was also awarded honorary Membership of London Institution of Civil Engineers for an unbroken period of 50 years.
In honor of Sir Visvesvarayya, a number of educational institutions are currently running in country. Some of them are: Visvesvaraya Technological University, Belgaum, University Visvesvaraya College of Engineering, Bangalore, Visvesvaraya National Institute of Technology (V.N.I.T.), Nagpur.