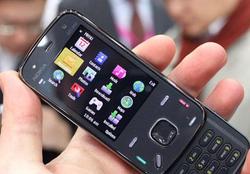 Nokia is the world's largest manufacturer of mobile telephones. Its total market share is around 38% . It is a Finland based company with its branches in more than 100 countries. Nokia produces GSM, CDMA, and W-CDMA (UMTS) mobile devices. It also offers Internet services for its mobile users, which include music, maps, media, messaging and games. Nokia is also the fifth most valuable global brand in the Interbrand/BusinessWeek Best Global Brands list of 2008. It is ranked 85 in terms of revenue in fortune 500 companies. Even I am also using Nokia cell phones from last 6 years. Today I have compiled 10 things that you should know about Nokia. So here comes the list.
The name of Nokia originates from Nokia town of Finland which is named after river Nokianvirta which flows through the town.
Nokia has been listed as the 20th most admirable company in the world by Fortune's list of 2006 (1st in network communications, 4th non-US company).
If we reverse the name of Nokia it becomes "aikon" which is used in many SDK software packages, including Nokia's own Symbian S60 SDK.
Nokia phones do not start its call timers until the call is actually initiated( Except for Series 60 based handsets like the Nokia 6600 ) which is unlike most of the today's handsets.
Digit 4 never appears in any Nokia handset model number in Asia as 4 is considered to be unlucky in many parts of Southeast/East Asia.
Nokia's mobile phone User's Guides mostly uses the Agfa Rotis Sans font which is Nokia's corporate font and was originally designed by Eric Spiekermann.
The sms tunes available to users of Nokia phones are actually Morse code. "Special" tone in Morse code for "SMS", "Ascending" tone is Morse code for "Connecting People"(Nokia's slogan) and the "Standard" tone is Morse code for "M" (Message).
Nokia is currently the world's largest digital camera manufacturer because the sales of its camera-equipped mobile phones have exceeded those of any conventional camera manufacturer.
The world's first commercial GSM call was made in 1991 in Helsinki over a Nokia-supplied network, by Prime Minister of Finland Harri Holkeri, using a Nokia phone.
The ringtone "Nokia tune" is actually based on a 19th century guitar work named "Gran Vals" by Spanish musician Francisco Tárrega. The Nokia Tune was originally named "Grande Valse" on Nokia phones but later was changed to "Nokia Tune" around 1998 when it became so well known that people referred to it as the "Nokia Tune."
Priyanka Chopra Promoting Nokia.