Apple's CEO Tim Cook has announced the launch of a new iPad. The new iPad supports faster 4G networks from Verizon and AT&T. It has a sharper display ( 9.7-inch 'retina display' with 2047 x 1536 pixels), a faster processor and an improved camera. It will be available in Apple stores from 16th March, 2012. It has many new features but no new name. You can call it "new iPad" "iPad 3″ or "iPad HD". Its key features are new 4G capability, retina display and iSight camera. You will find a five megapixel camera which will be capable of shooting at 1080p video.
Apple said the new display will be sharper than the average high-definition television set. In a hands-on demonstration, text shown on the screen was noticeably crisper. The new screen can also show deeper and more vibrant colors than previous models. The battery life of the new model remains the same: about 10 hours of use.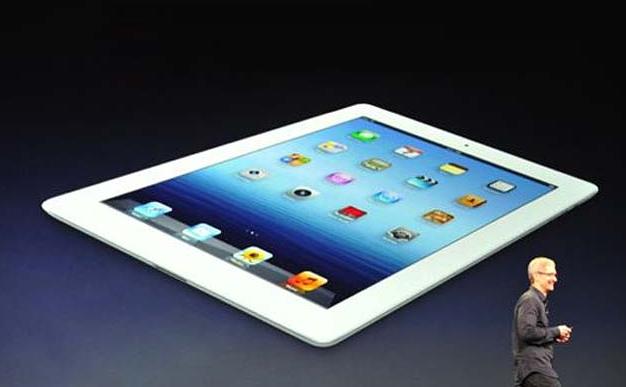 Time Cook also announced that iPad 2 will remain in the market and its price will be cut by $100. It means that the basic model of iPad 2 will now cost $399. That could help Apple regain some market share from cheaper tablets like Amazon.com Inc.'s $199 Kindle Fire. However, price will be new iPad will be $499, $599 and $699 for 16, 32, and 64GB. The 4G LTE version costs $629, $729, and $829 respectively.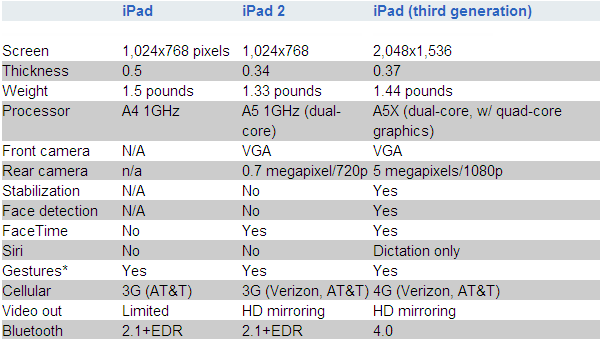 Salient features of new iPad ::
a new display for new iPad —  You will find a new retina display with a resolution of 2048×1536 (264ppi) in this iPad.

Fast processor — The new A5X processor, with quad-core graphics. is four times faster than the Nvidia Tegra 3.

5 Megapixel Camera

HD recording facility.

Speed up to 42 Mbps using dual-carrier HSDPA and 73 Mbps on LTE.

Voice detection system is also there.

iPhoto — tool for image editing and processing.

Starts at $499 for 16GB Wi-Fi only model.