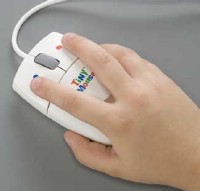 This week the mighty computer mouse is celebrating its 40th birthday. Still mouse is one of the most important parts of a desktop PCs. Actually Mouse is a pointing device that functions by detecting two-dimensional motion relative to its supporting surface. Physically, a mouse consists of an object held under one of the user's hands, with one or more buttons. The mouse's motion typically translates into the motion of a pointer on a display, which allows for fine control of a Graphical User Interface. This name "mouse" originated at the Stanford. The early models which had a cord attached to the rear part of the device, suggesting the idea of a tail to the common mouse.
On 9th Dec, 1968, at a computer conference in San Francisco, computer scientist Douglas Engelbart of the Stanford Research Institute demonstrated a small rectangular wooden device, with a single button which could control a computer. However, it was first introduced with a computer system by Xerox in 1981. But Xerox never understood the importance of mouse. Mouse became indispensable part of computer system only after Apple made it control tool of Macintosh computers. Microsoft also introduced computer mouse, when it launched Windows operating system in 1986. Now one can't imagine an operating system with a mouse.
Happy Birthday Mouse!