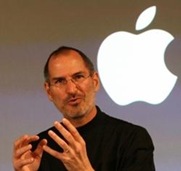 Steve Jobs, the king of Silicon Valley who completely transformed the world of personal computing, music and mobile phones, died on Wednesday at the age of 56 after a long battle with pancreatic cancer. Steve co-founded Apple when he was just 21, and he turned it into one of the world's greatest technological and innovation power house. Last month, with a market capitalization of about $346 billion, Apple briefly surpassed energy major Exxon Mobil to become the country's most valuable company. He was suffering from a recurrence of the pancreatic cancer for which he had undergone surgery in 2004. This year on Aug. 24, he resigned as Apple's CEO.
He was a born entrepreneur. He also served as chief executive of Pixar Animation Studios; he became a member of the board of directors of The Walt Disney Company in 2006, following the acquisition of Pixar by Disney.
In the late 1970s, Jobs, with Apple co-founder Steve Wozniak designed, developed, and marketed one of the first commercially successful lines of personal computers, the Apple II series. In the early 1980s, Jobs was among the first to see the commercial potential of Xerox PARC's mouse-driven graphical user interface, which led to the creation of the Macintosh.
After losing a power struggle with the board of directors in 1985, Jobs resigned from Apple and founded NeXT, a computer platform development company specializing in the higher-education and business markets. Apple's subsequent 1996 buyout of NeXT brought Jobs back to the company he co-founded, and he served as its CEO from 1997 until 2011. In 1986, he acquired the computer graphics division of Lucasfilm Ltd which was spun off as Pixar Animation Studios. He remained CEO and majority shareholder at 50.1 percent until its acquisition by The Walt Disney company in 2006. Consequently Jobs became Disney's largest individual shareholder at 7 percent and a member of Disney's Board of Directors.
Apple announced his death and said, his brilliance, passion and energy were the source of countless innovations that enrich and improve all of our lives. The world is immeasurably better because of Steve. Apple has lost a visionary and creative genius, and the world has lost an amazing human being.
On this day, I can't forget what he said about death six years back.
"Remembering that I'll be dead soon is the most important tool I've ever encountered to help me make the big choices in life," Jobs said during a Stanford commencement ceremony in 2005.

"Because almost everything — all external expectations, all pride, all fear of embarrassment or failure — these things just fall away in the face of death, leaving only what is truly important."

"Remembering that you are going to die is the best way I know to avoid the trap of thinking you have something to lose. You are already naked. There is no reason not to follow your heart."
Steve lived the dream life and changed the world, inspired all of us. He was a real hero. May God bless his soul!