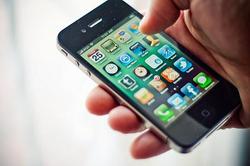 Mobile applications are softwares which are developed for small low-power handheld devices such as personal digital assistants, enterprise digital assistants or mobile phones. These applications are either pre-installed on phones during manufacture, or downloaded by customers from various mobile software distribution platforms. In the twenty years from 1990 to 2010, worldwide mobile phone subscriptions grew from 12.4 million to over 4.6 billion, from this data, you can understand of importance and popularity of mobile applications. Let's see the list of Top 7 Mobile Applications.
Tango : Tango is a free application that allows users to make video calls to friends and family members anywhere in the world right from your mobile phone for free! Currently it supports popular mobile phone platforms like Android, Apple iOS and Microsoft Windows Mobile 7 (soon) that are connected to the Internet through 3G, 4G and WiFi networks. It is available as a free download in the iTunes Store, Android Marketplace or you can download it from www.tango.me. Obviously your mobile phone must have a camera for the video calling to work. To all Apple fans, Tango might sound very similar to Face Time, which is the iPhone/iPad/iPod Touch based video calling application. Although Face Time is fabulous, the problem with it is that it limits users to making video calls to only other Apple users. However, Tango is a little more platform independent.
Fring : Another fantastic rival to Tango is the popular Fring application (http://www.fring.com/) which has advanced features like Group Video Chat (if you wish to video chat with multiple people at the same time), FringOut (allows you to make video calls to even users who are not on Fring) and support for text messaging on Instant Messengers. Video calling is here to stay. Don't be surprised if in the coming years, instead of reading this technology column in print, you might be watching me speak to you via a video call. Who knows?
Skype : Skype is dominant in the Internet calling realm. However, with hundreds of millions of downloads, Skype is also popular for instant messaging as well. Skype allows you to send messages to anyone you regularly talk to while on Skype on your computer. With Skype on your Nokia, you can share photos, videos, and other files from your phone. Also, if a Skype message isn't available, you can send SMS for the cheap Skype global rates.
Nimbuzz : Nimbuzz is a hybrid client, in that they support other Nimbuzz friends and your traditional IM systems as well. Nimbuzz will allow you to interact with your friends on various IM networks including MSN, Yahoo!, GoogleTalk, Facebook, IM, MySpace and Hyves. Also, you can do free calls with other Nimbuzz friends in HD where supported. This app makes chats look good with customizable avatars and backgrounds for your chats.
IM for Nokia : This application, straight from Nokia, allows for access to top IM systems including Google Talk, Windows Live Messenger, Yahoo!, MySpace and Ovi Chat. You can customize your status and availability across multiple IM systems with one setting. One distinctive feature I like about IM for Nokia is that this application integrates your friends and contacts' IM status straight into your contact list, showing you friends who are available right now.
eBuddy : eBuddy is most likely the one mobile IM app you've heard of. This long-time favorite supports all the popular IM networks and this application works on many different Nokia models. A year ago, CEO Jan-Joost Rueb reported to Conversations that they support over 900 Nokia models. Also, back in April it was reported that eBuddy hit 10 million downloads int he Ovi Store – which is an astonishing figures.
WhatsApp : WhatsApp allows you to communication with contacts, either on a 1:1 basis or as a group. If your friends have other phones, such as iPhones, BlackBerry or Android, WhatsApp facilitates instant communication with them. Also, WhatsApp can degrade to SMS if this is necessary. WhatsApp can send pictures, audio and video to multiple parties, making this app very useful.