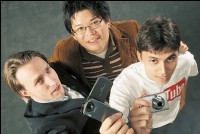 Have you ever thought about the famous YouTube video player which completely change the way videos are run on websites ? Before YouTube no one on this earth ever tried Adobe (macromedia) flash to show videos on web pages. YouTube was launch in February 2005 by Chad Hurley, Steve Chen and Jawed Karim. Before launching YouTube, they were PayPal employees. While working at PayPal they got an idea of a video portal as at that time watching videos on web pages was very painful due to their slow speed. They decided to use Adobe Flash technology in the videos to display user-generated video content, including movie clips, TV clips and music videos. The work was divided. Hurley designed user interface and logo of YouTube. Chen and Karim took the job of handling back end development. It was Jawed Karim who developed the YouTube flash Video Player. Even he uploaded the first YouTube video. After completing the development of YouTube, they later divided management responsibilities. Hurley became CEO of YouTube and Chen, chief technology officer.
While, Jawed joined Stanford for his PhD in computer science. So he was quite out of lime light during the famous YouTube acquisition by Google. But he continued advising YouTube and its new employees. Jawed is a computer science graduate from the University of Illinois at Urbana-Champaign. He left the college prior to graduating to become an employee at PayPal. There he meet the other two co-founders of YouTube and finally changed the way users watch videos on web pages.
So, why this player is so crucial for YouTube ? What is the secret of its high speed ? As already discussed, YouTube video player is based on Macromedia's. This technology allows the site to display videos with better quality and higher speed as compared other video players like Windows Media Player, QuickTime and Real Player. These old players require the user to download and install a web browser plugin in order to view video. Whereas YouTube players requires Flash plug-in to be installed in the browser. Videos uploaded to YouTube are limited to 10 minutes in length, and a file size of 1 GB. YouTube converts videos into the Flash Video format after uploading. On YouTube users can upload videos in the .WMV, .AVI, .MOV, MPEG and .MP4 formats. It also supports 3GP, so you can also uploaded videos directly through your mobile phones.