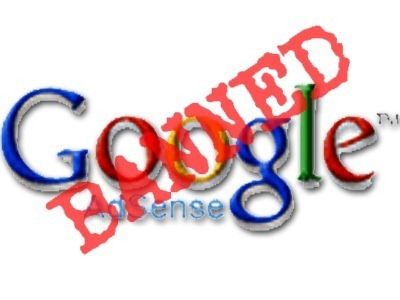 On 23rd September, I saw empty white space coming in place of Google Ads on abhisays.com. At that time, I ignored those boxes but later I realized that Google had banned my website from Adsense ad serving. This was big shock for me as I was using adsense on abhisays.com from last five and half years and it was the best source of revenue for me. Google AdSense allows publishers in the Google Network of content sites to serve automatic text, image, video, and rich media adverts that are targeted to site content and audience. These adverts are administered, sorted, and maintained by Google, and they can generate revenue on either a per-click or per-impression basis.
I got the following mail from Google saying "Google AdSense ad serving has been disabled to your site"
Hello,

This email is to alert you that one of your websites is not currently in compliance with our AdSense program policies and as a result, ad serving has been disabled to your website.

Issue ID#: 18403531

Ad serving has been disabled to: abhisays.com

Example page where violation occurred:

http://abhisays.com/india/download-and-watch-ramayan-online.html

Action required: Check all other remaining sites in your account for compliance.

Current account status: Active

Violation explanation
COPYRIGHTED MATERIAL: As stated in our program policies, AdSense publishers are not permitted to place Google ads on sites involved in the distribution of copyrighted materials. This includes hosting copyrighted files on your site, as well as providing links for or driving traffic to sites that contain copyrighted material. More information about this policy can be found in our help center

( http://www.google.com/adsense/support/as/bin/answer.py?hl=en&answer=105956 ).

Action required: Check account for compliance

While ad serving has been disabled to the above site, your AdSense account remains active. Please be aware that the URL above is just an example and that the same violations may exist on other pages of this website or other sites you own. Therefore, we suggest that you take the time to review the rest of your sites to ensure that they're in compliance with our policies, and to monitor your sites accordingly to reduce the likelihood of future policy emails from us. Additionally, please note that our team reserves the right to disable accounts at any time if we continue to see violations occurring.

Appeals

If you wish to appeal this disabling then you can do so by using the Issue ID listed above to contact us via our Help Center:

https://support.google.com/adsense/bin/answer.py?hl=en&answer=113061.

Thank you for your cooperation.

Sincerely,

The Google AdSense Team
So, AdSense ads were disabled on my blog, but fortunately account was active. The post that violated AdSense terms was about the link for Ramayana Download. But it was just an example. Google suggested me to remove copyrighted materials, and then appeal to re-enable the AdSense. Then I deleted some 7-8 posts related to movie and mp3 downloads and made an appeal to re-enable the AdSense using this link.
After submitting the form I got the automated reply saying
This message was sent from a notification-only email address that does not
accept incoming email. Please do not reply to this message.
——————————————————————————-
Hello,

Thanks for contacting Google AdSense. This an automated reply to let you
know that we've received your appeal request.

It looks like you'd like to appeal the disabling of http://abhisays.com.
While we're unable to respond personally to this particular message,
please rest assured that your request has been submitted for appeal and
one of our policy specialists will be reviewing it soon.

Please note that while we will take your comments into consideration when
evaluating your website, there is no guarantee that ad serving will be
re-enabled.

We appreciate your patience and understanding.

Sincerely,

The Google AdSense Team
Then  I waited for three days and received another shocking mail from AdSense team.
Hello,

Thank you for providing us with additional information about your site.
However, after thoroughly reviewing abhisays.com and taking your feedback
into consideration, we're unable to re-enable ad serving to your site at
this time, as your site appears to still be in violation.

If you'd like to have your site reconsidered for participation in the
AdSense program, please review our program policies
(https://www.google.com/adsense/policies) and make any necessary changes
to your webpages. For more information regarding your policy issue, please
visit https://www.google.com/adsense/support/bin/answer.py?answer=113061 .

Once you've fully resolved any issues with your site, please visit
https://google.com/adsense/support/bin/request.py?contact_type=policy_violation_appeal
to request a second review.

We appreciate your cooperation.

Sincerely,

The Google AdSense Team
Now I was completely confused, what to do next as I had already deleted posts related to movies, mp3 downloads. I kept my cool and started browsing adsense help forums. After spending a good time on support forums, I found that Google Adsense has recently stopped delivering  its ads on Php Melody Video site. You cannot run AdSense ads alongside copyrighted content that violates copyright laws, or alongside links to such content. Since I was running Php Melody Video site with 1500 Hindi Songs, this might be the root cause of this problem. So finally I completely removed the Php Melody Video site from my server and made second appeal to re-enable the AdSense.
This time after 36 hours, I got this pleasant message from Google.
Hello,

Thank you for making the requested changes to your site in order to comply
with our policies. After thoroughly reviewing abhisays.com, we have now
re-enabled ad serving to this site.

Because ad serving to your site was temporarily disabled, you many notice
a delay of up to 48 hours or more before ads begin appearing on your site
again. We appreciate your patience and cooperation.

Sincerely,

The Google AdSense Team
And in this way I got Google ads back on my website!
Lessons learnt from this incident !!
Never, I repeat never give link of any illegal download website or torrent on your website or blog.
If you want to use Php Melody, better use without adsense.
Don't place AdSense on "thank you" pages, registration pages or pages with no (or little) content.
Don't place AdSense too close to videos, images or any content that might trigger accidental clicks.
If you are embeding videos from YouTube then always add lengthy and unique description to your videos
AdSense is a best way to make money online through original content on internet. So  never take this lightly and invest time to ensure you won't experience of this kind.