If you are a football lover, then you must be aware of Maradona's hand of God Goal in 1986 World Cup Football. It was a quarter final match between Argentina v England, played on 22 June 1986, during the 1986 FIFA World Cup at the Estadio Azteca in Mexico City. The match, between two of the biggest powers in world football, is remembered as one of the most epic in FIFA World Cup history due to the Hand of God controversy. For Argentina, Diego Maradona scored two of the most famous goals in football history. His first, after fifty one minutes, was the Hand of God goal in which Maradona scored via an illegal, but unpenalized, handball. His second, after fifty four minutes, saw him dribble past six England players and was voted in 2002 as the Goal of the Century. Finally, Argentina won the game 2-1 and went on to win the 1986 World Cup with a victory over West Germany in the final.
Hand of God
Six minutes into the second half, Maradona cut inside from the right flank and played a diagonal low pass to the edge of the area to team-mate Jorge Valdano and continued his run in the hope of a one-two movement. Maradona's pass, however, was played slightly behind Valdano and reached England's Steve Hodge, the left midfielder who had dropped back to defend. Hodge, who swapped shirts with Maradona after the game tried to hook the ball clear but miscued it. The ball screwed off his foot and into the penalty area, toward Maradona, who had continued his run. England goalkeeper Peter Shilton came out of his goal to punch the ball clear, with his considerable height at 6 ft 1 in (1.85 m), making him clear favorite to beat Maradona at 5 ft 5 in (1.65 m) to it. However, Maradona reached it first, with the outside of his left fist. The ball went into the goal, and the referee (Tunisian Ali Bin Nasser), not having seen the infringement, allowed the goal.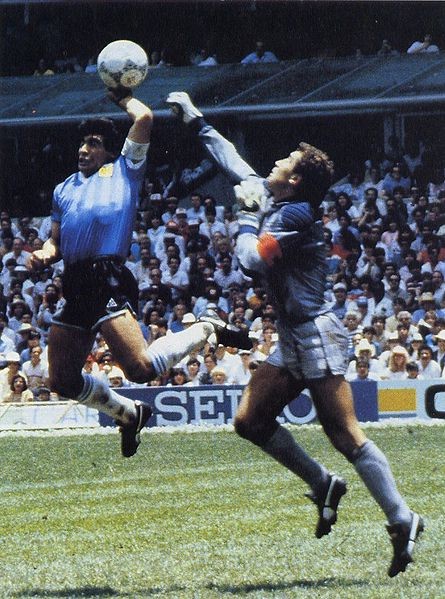 See the video of Hand of God Goal.
Goal of the Century
Just 4 minutes after the controversial Hand of God goal, there came the Goal of the Century. This Goal is claimed to be the greatest individual goal of all time. Hector Enrique passed the ball to Maradona some ten metres inside his own half. Maradona then began his 60-metre, 10-second dash towards the English goal, leaving behind five English outfield players, Hodge, Beardsley, Reid, Butcher and Fenwick. Maradona finished the move by dribbling round Shilton to make the score 2-0 to Argentina.
See the video of Goal of the century