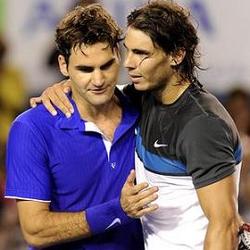 When we think of Roger Federer playing on clay we just can't stop ourselves from thinking about his match with Rafeal Nadal. There had been quite a few arch rivalries like Pete Sampras vs Andre Aggasi, Bjorn Borg vs John Mcenroe but the one between Federer and Nadal has been the utmost interesting one in recent times. When both of meet on a court the quality of tennis they produce is simply outstanding and watching them play is a sheer pleasure for the fans across the world. Whenever you watch both of them playing against each-other you are guaranteed complete entertainment.
I just can't think of doing anything other than deep sighing on every stroke they play be it forehand, backhand, serve, volley, lob or the clever drop-shot. Hats-off to the players like these that game has attained so much innovation and improvisation over the last decade.
One of the best memories that emerge before my eyes is the finals of French Open from 2005 to 2009 no mentioning that those finals were played between Federer and Nadal. Nadal was the winner in all of those finals. Federer has beaten Nadal only twice out of eleven career meetings on clay. Nadal beat Federer in the 2008 Wimbledon final in an epic match that is considered by many as the best match of all time with a score of 6-4 6-4 6-7(5) 6-7(8) 9-7.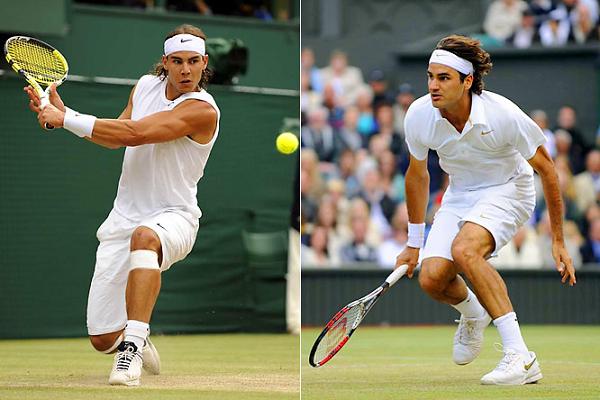 Okay lets discuss their game styles. Federer is the ultimate gentleman. He plays with a considerable amount of grace, finesse and touch. In a game that is mostly dominated by power he shows that it is still possible to outsmart opponents with skill and finesse. Federer plays with a combination of power and grace that has probably never before been seen in tennis.
On the other hand Nadal is robust to the extreme. He can intimidate an opponent with the sheer desire to win that he shows out on court. Nadal is all about muscle and guts. He NEVER gives up and plays every point as though his life depended on it. He is mentally maybe the best in the game.
When it comes to sheer natural ability he is light years behind Federer, but he makes up for it with desire and physical presence. His forehand is unorthodox, with the follow through ending up over his left shoulder instead of the right! But then again Nadal never cared as much about appearances as about winning.
Now we are again ready for a performance which will be a combination masculinity and elegance, stamina and graciousness. French Open 2010 is just starting to up the ante and as the tournament will progress we will keep our fingers crossed to see two of most the brilliant artist head to head in the finals again in Paris, France, at the Stade Roland Garros.