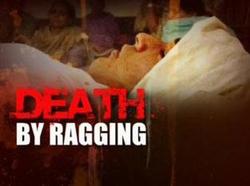 Now it wil take only 15 minutes for any fresher or new college student college, facing any form ragging, to get his complaint registered with the college authorities. Just the victim will have to dial a number. Actually, this week Government of India has started a toll free anti-ragging helpline number 1800-180-5522, which will remain functional 24 by 7, to register all the complaints regarding ragging. Ragging is a common phenomena in India, Australia, US, Britain, Sri Lanka etc. It is a form of abuse on newcomers to educational institutions. In United States, it is known as hazing. During ragging, senior students force the unorganized newcomers to undergo several forms of mental, physical and sexual abuses.
The legal definition of Ragging says:
Ragging means the doing of any act which causes, or is likely to cause any physical, phsycological or physiological harm of apprehension or shame or embarrassment to a student, and includes- (a) teasing or abusing of playing Practical joke on, or causing hurt to any student. or (b) asking any student to do any act, or perform any thing, which he/she would not, in the ordinary course, be willing to do or perform.
According to a report by the Indian anti-ragging group Coalition which analyzed 64 ragging complaints in 2007, over 60% of complaints were related to physical ragging, and 20% were sexual in nature. India's only registered Anti Ragging NGO, Society Against Violence in Education (SAVE) has noted 7 reported ragging deaths in the year 2007 alone and 31 reported deaths in the period 2000-2007.

Now lets come back to the new toll free anti ragging helpline number 1800-180-5522. Victim can also send its complaints through e-mail at helpline@antiragging.net. Once the anti-ragging call centre registers the complaint, the caller will be given a unique number which can be used as reference for all future communications and feedback. Now the call centre will forward the complaint details to the designated officials in the concerned college or institution. They will also be sent to the nodal officer of the university and district collector. All these processes will happen in only 15 minutes.
If no action is taken in given time limits, the UGC(University Grants Commission) and the HRD(Human Resources Development) ministry will be informed about the complaint. A senior official will then take up the complaint with the concerned institution. After the necessary action been taken, the concerned student will get a call or e-mail confirmation containing the details of the complaint and related action taken. I think this will greatly reduce the ragging incidents in India. What is your opinion on this issue? Post your comments.