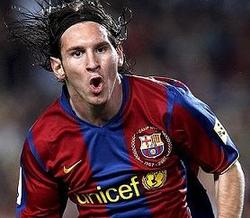 From my point of view, Lionel Messi, Cristiano Ronaldo, KAKA, Steven Gerrard, Miroslav Klose and Wayne Rooney are the top players to watch out in Fifa World Cup Football 2010. I also know that this is not the right list of top players in the world of Football but still there is a high probability that any one from them comes out as the winner of Golden Boot Award. There are many other great players, in different positions, in different eras and styles of the game but, right now my list is only of six players. I will expand this list and add new players as the World Cup progresses. Now we have to wait only 48 hours for the World Cup Football to start. Meanwhile, check this list and let me know if you want to add any other player.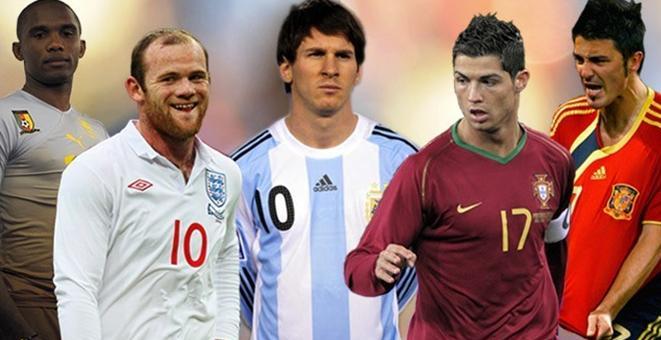 Lionel Messi is an Argentinean football player who played for the FC Barcelona in the Spanish football league and other European football tournaments such as the Champions League. He is among the most awaited football players during the World Cup 2010 due to his exceptional football shoes tricks and magical football skills. He is often compared to Maradona for his playing style and aggressiveness as a striker.
Cristiano Ronaldo has newly joined the Real Madrid; after leading the Manchester United until the Champions League finals against Barcelona where the Man Utd lost, Ronaldo's popularity was starting to decrease in the English Premier League. After being signed by Real Madrid, Ronaldo is also one of the best soccer players in the world, widely known for his goal scoring techniques and accurate striker's shots.
KAKA quit playing for AC Milan and joined Real Madrid along with Cristiano Ronaldo to form one the most dangerous offensive lineups in the world; although Kaka occupies the midfield spot, he remains one of the most skilled strikers when it comes to scoring goals. This time he is the most important member of the Brazilian team.
Steven Gerrard is one of the most dangerous football strikers in the world. He is also captain of Liverpool. He will lead the English football team in South Africa 2010.
Wayne Rooney is the key member of English team in this Fifa World Cup. In a 2010 interview, former teammate and Argentina forward, Carlos Tevez, said that Rooney is "the best in the world, it was a privilege to play with him." He became the youngest player to play for England and score a goal when he earned his first cap in a friendly against Australia on 12 February 2003. At that time, he was only seventeen.
Miroslav Klose, a German striker scored seven goals in last World Cup however his team only reached the semifinals. But he won the Golden Boot Award. This time also, Klose is looking to become to first man in history of Football to win the Golden Boot for second time.