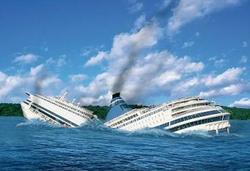 The Bermuda Triangle has always been a strange and mysterious place in modern World History. This is located in the southern Atlantic Ocean. It is roughly the shape of a triangle. Many people claim that Bermuda Triangle sucks planes and boats into its dark and murky waters. But no one knows exactly what happened to those lost planes and boats in the region. News papers, TV channels and internet websites have attributed these disappearances to the paranormal or activity by extraterrestrial beings. That's why it is also known as the Devil's Triangle. Hundreds of ships and planes have been reported missing in the area and more than 1,000 lives have been lost.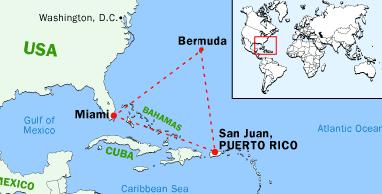 Some people think that the Bermuda Triangle is in a place where there is high magnetic force so when planes or whatever goes over it, they get sucked down and all of the computers, magnetic compass and other machines stop working. Some say paranormal or human error or even large amounts of methane in the water that cause ships to sink. See the video of group of aircraft that were the first of thousands to go missing inside the mysterious Bermuda Triangle in 1945, in the BBC show.
Incidents in Bermuda Triangle ::
1843: USS Grampus, schooner, last seen March 15, presumed sunk in a gale off Charleston, South Carolina.
1872: December 5, Mary Celeste, a 282-ton brigantine, sailed from Staten Island, New York City, bound for Genoa, Italy, on 7 November, and was found abandoned some 400 miles (640 km) east of the Azores; her last log entry on November 24 gave her position as 100 miles (160 km) west of the Azores.
1918: USS Cyclops, collier, left Barbados on March 4, lost with 309 crew and passengers en route to Baltimore, Maryland.
1921: January 31, Carroll A. Deering, five-masted schooner, Captain W.B. Wormell, 11 crew, found aground and abandoned at Diamond Shoals, near Cape Hatteras, North Carolina.
1925: April 21, Raifuku Maru, a Japanese cargo ship which sank with the loss of all 38 crew, supposedly went down in the Triangle after sending out an SOS signal which allegedly read "Danger like dagger now. Come quick!", but in reality the ship was seen to sink in a gale off Nova Scotia and the SOS message did not contain the word "dagger".
1925: December, SS Cotopaxi, tramp steamer, Captain Meyers, went missing with crew of 32 after leaving Charleston, South Carolina for Havana, Cuba, reported caught in tropical storm.
1942: February 18, FS Surcouf, a Free French Naval Forces submarine en route for Tahiti via the Panama Canal, sank about 80 miles (130 km) north of Cristóbal, Colón, after a night-time collision with the American cargo ship Thompson Lykes.
1945: December 5, Flight 19 (5 TBF Avengers) lost with 14 airmen, and later the same day PBM Mariner BuNo 59225 lost with 13 airmen while searching for Flight 19.
1948: January 30, Avro Tudor G-AHNP Star Tiger lost with 6 crew and 25 passengers, en route from Santa Maria Airport in the Azores to Kindley Field, Bermuda.
1948: December 28, Douglas DC-3 NC16002 lost with 3 crew and 29 passengers, en route from San Juan, Puerto Rico, to Miami.
1949: January 17, Avro Tudor G-AGRE Star Ariel lost with 7 crew and 13 passengers, en route from Kindley Field, Bermuda, to Kingston Airport, Jamaica.
1963: February 3, SS Marine Sulphur Queen T-2 tanker carrying molten sulphur, lost with 39 crew near Dry Tortugas in the Straits of Florida, west of Miami.
1967: December 22, Witchcraft, cabin cruiser, 2 onboard, disappears one mile (1.6 km) off Miami; had called Coast Guard requesting a tow, but on their arrival 19 minutes later no trace found; possibly pushed north by Gulf Stream; search involved 1,200 square miles (3,100 km2).